RORY GALLAGHER- "Some No-Nonsense Picking"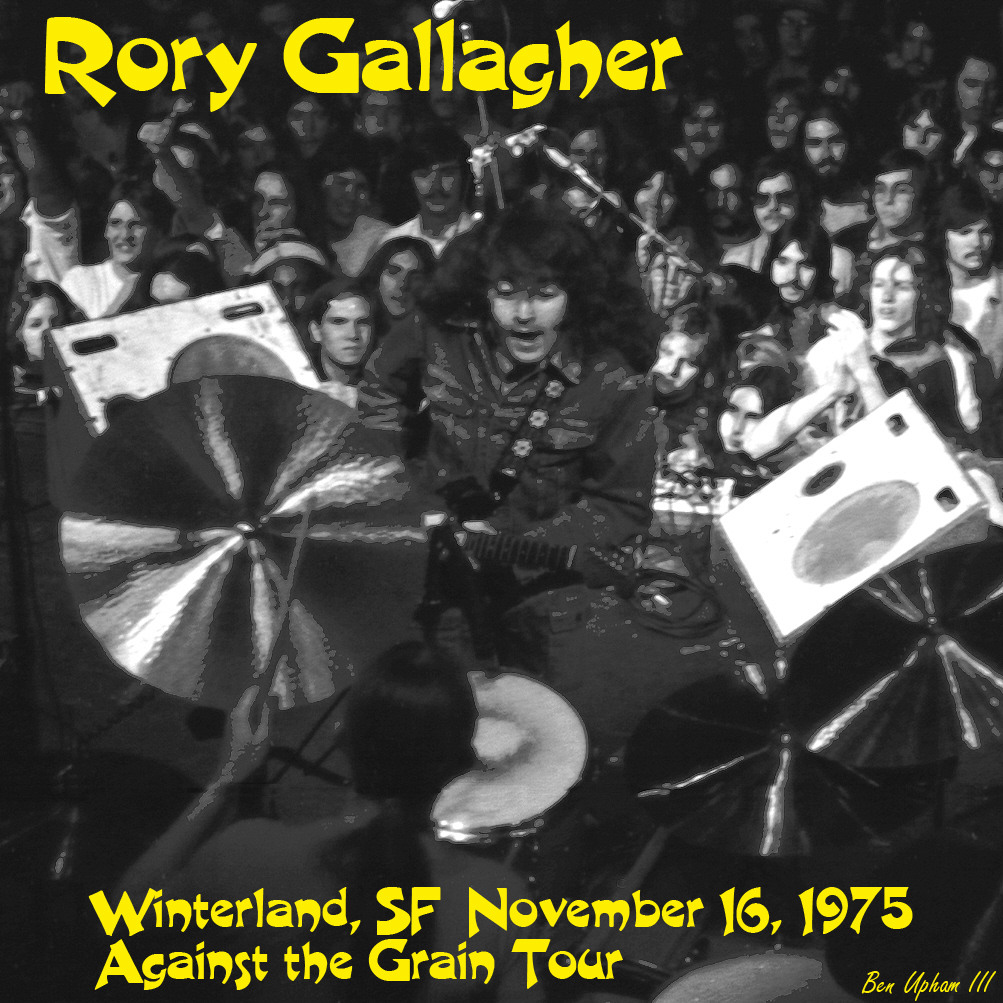 RORY GALLAGHER AT WINTERLAND IN SAN FRANCISCO ON 11-16-75. PHOTO BY BEN UPHAM.
CLICK THE FOLLOWING LINKS FOR MORE RORY GALLAGHER PHOTOS & ARTWORK:
WINTERLAND 11-16-75
and
KENT, WA. 12-18-79
and
RORY ARTWORK BY BEN UPHAM III
and
PURCHASE RORY GALLAGHER CD'S AND DVD'S
RORY GALLAGHER- "Some No-Nonsense Picking"
by Kelly Michaels
November 19, 1976
It wasn't too long ago that Rory Gallagher was a virtually unknown entity. In fact in some parts of the world, and even in the States, he's still not what you could call a household word.
Well, Rory Gallagher is a guitar player, plain and simple. He's built his reputation on being just that, and his songs, the bands that back him up when he plays them, and his demeanor all add up to a no-nonsense, invigorating brand of blues-styled guitar.
Gallagher comes from an interesting musical background. His music is a not-so-obvious blend of a wide variety of styles, from the Irish jigs and skiffle music he played as a youngster, to the acoustic and electric blues in his adolescence as he began to realize he was cut out to be 'the-kid. "
"I've been playing guitar since I was nine," he said, "so you could say I started off as a kid guitarist. Singing skiffle, which is a kind of folk music. My big hero was a guy called Lonnie Donnegan. He used to do a kind of Woody Guthrie type material. So I started off doing those things, and then a few Elvis Presley things, and some Chuck Berry. I just kind of played and developed from that through 12 and 13 years of age, playing in school bands, and electric guitar, rock 'n' roll Buddy Holly."
If you've heard Rory's guitar, it's not not hard to conjure up the sounds in your mind. The sounds run the gamut of crisply articulated, tight little runs, to some of the most amazing guitar wizardry you're likely to hear from one man and one guitar. He plays some of the most electrifying blues guitar known to man. In fact, Rory is kind of a time-warped kid that didn't see the world pushing off into pseudo-this-and-that, the self conscious, echo-plexed, phase-shifted, wah-wahed," reverbed, revamped, and bull-shitted neo-rock. Gallagher's music is deeply rooted in the blues and that goes for the fee1 as well as the progressions.
"John Hurt (Mississippi) I like very much. He's dead now. He had a lovely guitar style. I listen to the whole blues thing. I have some favorites, of course, like the acoustic people, Scrapper Blackwell, Big Bill Broonzy -I like his guitar playing-and Blind Boy Fuller I like very much. And then I have my favorites among the electric players, like Muddy Waters, Buddy Guy, Hound Dog Taylor, those types of players.
"And I still listen to Country Music quite a bit, but not the Glen Campbell stuff. I like Merl Haggard and Waylon Jennings. He played with Buddy Holly, you know, just before Holly died. In fact he gave up his seat on the plane for the Big Bopper, or maybe it was Holly himself. When Gallagher talks country though he's really talking Blues, and the same goes for when he talks Jazz or Rock.
"Although I still listen to everything, mostly I just kind of listen to the things that are more bluesy, really, See, I played in a dance band as well, which is the closest to Top 40 that I did, We played dance music, which obviously involved rock and roll, along with Irish jigs, country and- western and the whole lot."I really didn't want to play the stuff that much, but I put up with it because it was a chance to play frequently as opposed to just playing, sort of, every three weeks at school dance or something. Then after that I started Taste, or no, actually after that I did a bit of work in Hamburg, In the clubs there."
Taste, of course, was Gallagher's band before' he went solo in 1970. Hamburg, on the other hand, was where it was happening in the '60s and when you listen tb Rory now, you still get images of the rough and tumble pubs and loud rock 'n' roll that made up those years there.
"It was great! fantastic! Well, it was great a few years ago. The club scene was really booming then. It's more or less replaced now by discoteque. But back then it was great. You could kinda play Chuck Berry al1 night, rock 'n' roll. But I did that for a while, finally returning to Ireland where Taste was formed. The reason forgoing to Hamburg and not forming a regular group up until that time was because in Ireland it was a bit untogether. There were no guys that wanted to play rock, or blues, or whatever. They were all spread out there was no definite scene. But by the time I got back, which was around '66, I think, there were a lot of good musicians around, so that's what happened.
Gallagher's band Taste, a three piece trio enjoyed tremendous success in Europe until its demise in 1971, the same year Rory began to exploit his growing following in the States. They never appeared here, but released two albums from the studio before they split up, and two Live albums released (Live Taste and Live at the Isle of Wight, neither released here) without Gallagher's knowledge.
Rory's most recent tour was a short one, only a month, where the band did some dates with Jethro Tull (including the Oakland Arena show in August) He's due back this month to headline Winterland (Nov. 19, with Point Blank). As short as it was, it was still eventful judging from the reports of the various goings on during that last jaunt-like rumors that he'd lost a finger when his guitar exploded on stage.
"That's just a story. My amplifier just burned up, that's all. By the time it got to the papers here, it stated that my guitar was sabotaged by a very small bomb or something. Then I just cut my finger, and they said I lost my complete finger, but I didn't.
Then, the reports that Kiss had become jealous of the response Gallagher had elicited from a crowd in Seattle or something and had pulled
Rory's plug.
"Oh Lord, yes! They are amazing! I suppose they're supplying a certain thing too, you know, just playing for a certain kind of audience. But it's very theatrical; Batman and Robin stuff. I suppose they do what they do. There's room for everybody, you know. I personally never have had the urge to dress up on stage. I might put on a clean shirt maybe, but then the performers I like don't dress up either. I have nothing against it, of course, I mean, all the rockers in the '50s used to dress up, you know, Little Richard, Fats Domino, Jerry Lee Lewis. But I don't know, I just try and let it happen naturally, you know what I mean. Just hear the music, and dress as you feel."
The new LP, Calling Card, was recorded in Munich but is being pressed in the States. Why Munich?
"Well, simply, it fit into the schedule nicely, and the guy who produced it, Roger Glover, who used to play with Deep Purple, was already there working on his own album. And it just worked out well, so he could do his album and ours as well.
Another nice departure was some of the acoustic guitar playing not too evident in Gallagher's past. "I really liked ,the acoustic. stuff. I'm doing an acoustic album sometime soon, with quite a few originals. I may record the thing before Christmas. Of course, by the time it's actually recorded, and everything's ready, it wouldn't be out until much later.
Does Rory miss the Hamburg days, the club days?
"Yes. I wish, we were playing a club, that would be nice. Played Keystone here once. Played it two nights actually, about two years ago."
It's quite a jump from Keystone Berkeley to headlining Winterland, but Rory Gallagher's done it. Just goes to show you what good honest guitar playing can do for a dedicated picker.
RORY GALLAGHER DISCOGRAPHY:
1969 Taste (w/Taste)
1970 On the Boards (w/Taste)
1971 Live (w/Taste)
1971 Rory Gallagher
1971 Deuce
1972 Isle of Wight (w/Taste)
1972 Live in Europe
1973 Blueprint
1973 Tattoo
1974 Irish Tour '74 (Live)
1975 Against the Grain
1976 Calling Card
1978 Photo Finish
1979 Top Priority
1980 Stage Struck
1982 Jinx
1987 Defender
1990 Fresh Evidence
1999 BBC Sessions
2003 Wheels Within Wheels (Acoustic)
2011 Notes from San Francisco
CLICK THE FOLLOWING LINK TO SEE RORY GALLAGHER PHOTOS & ARTWORK BY BEN UPHAM III:
WINTERLAND 11-16-75
and
KENT, WA. 12-18-79
and
RORY ARTWORK BY BEN UPHAM III
and
PURCHASE RORY GALLAGHER CD'S AND DVD'S