PAT TRAVERS- "He may act Cool about it, But He is in Love with Success"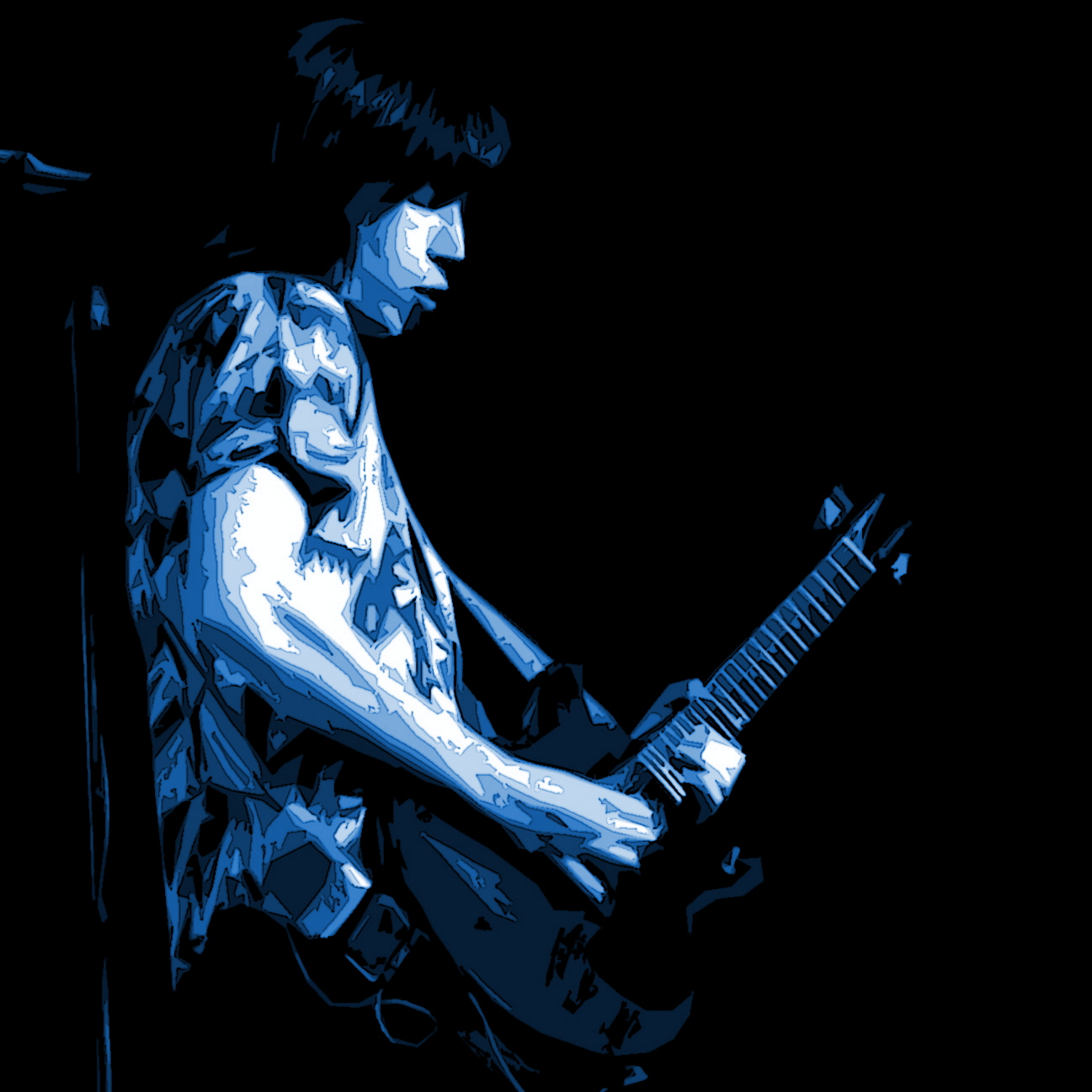 Pat Travers in Seattle on 2-23-78. Photo/Art by Ben Upham.
Click on the following link to see more Pat Travers Photos & Artwork:
PAT TRAVERS SEATTLE 78 PHOTOS
and
PAT TRAVERS ARTWORK BY BEN UPHAM
and
PAT TRAVERS CD'S TO PURCHASE
"He may act Cool about it, But He is in Love with Success"
by David Fricke
November 13, 1979
I'm always cool-looking," boasts a freshly showered Pat Travers in wet hair and robe but with a laugh that shows he is kidding. "I don't know what it is about me, but I'm always cool-looking. And as a matter of fact, I can't wait 'til tomorrow because, as each day passes, I get even cooler."
That may or may not be true of the Canadian-born Travers, who cuts an undeniably impressive figure on stage with his Gibson guitar, straight shoulder-length hair and wholesome wheat-field look conjured up in a guitar-hero grimace. But thanks to a Top 40 live album Go For What You Know (Polydor) and its sing-a-long raver single, "Boom Boom (Out Go the Lights"), Travers is becoming more famous as each day passes.
Like Peter Frampton with Frampton Comes Alive, the 25-year-old Travers is finally translating four years of road-hogging and opening act slots into big record sales with a "greatest hits" album of his stage standards ("Boom Boom," "Stevie," "Makin' Magic") played with the blood and thunder that has eluded him in the studio. On the occasion of a Dickey Betts-Travers show at San Francisco's Winterland, a Bill Graham associate was once quoted as saying that "Betts puts on a good show, but he doesn't sell tickets. This show sold out fast because of Travers. He's on the verge of becoming very big."
That was two years ago and now Travers is big, and while he never doubted his own abilities as musician and entertainer, Travers cheerily confesses that he never expected a live album to pull him through. "We" (being Travers, second guitarist Pat Thrall, bassist Peter Cowling, drummer Tommy Aldridge) "initially recorded the album to fill a gap where we'd been in the studio for three or four months. So we recorded the last few dates of our American tour last January and February. We went to Europe, came back to rehearse the new album, and were actually in the studio recording when it took off."
Travers, born in Toronto and raised in Ottawa by his widowed mother from age 12 on, started laying the groundwork at eight when he saw the Beatles on Ed Sullivan. "I just went 'Wow!' " A humble beginning, but once his uncle who owned a music store came home with a guitar ("a hunk of junk") and some Easy Guitar method books, Travers was on his way. At his first pro gig with a band in Ottawa, "I got stage fright like a motherfucker." But he got over that quickly when he got paid $25 for the evening's work.
A stint with Ronnie Hawkins, a period plying his trade in England, and five albums later, Travers commands considerably more than that for a performance now but insists that this is the Pat Travers Band in name only, "that I am only the focal point for four really talented people."
Drummer Tommy Aldridge (ex-Black Oak) concurs through a long Southern drawl. "It's to my advantage to be here, but it's to Pat's advantage for me to be here, too. We're all in this together."
Travers doesn't try. When he first formed the band in London in '76, he auditioned more than 70 guitarists to fill out the group and "I couldn't find anybody worth a shit." And he didn't until last year, when Pat Thrall joined in time to record Heat in the Street. "But there had to be a center for this thing," insists Travers, trying to draw a parallel.
"If you think of Boston, who do you think of? Tom Scholz. It's the same kind of deal here, except," he laughs mischievously, "I don't make everybody play basketball after the show."
And just as people recognize Tom Scholz's lanky six foot-plus frame and wide horse-like smile on the street, Travers is beginning to enjoy the public recognition a hit record can bring…sort of. He remarks that shortly after he moved into his Miami home last year, "I was out by my pool, the pool cleaner was out there, too, except he didn't know who I was. So he walks up and says to me, 'Has anybody told you that you look a lot like Pat Travers?' " . Travers, an easygoing Canuck who's taken five years of touring in stride, was impressed. "That," he concedes, "was weird."
PAT TRAVERS BAND DISCOGRAPHY:
1976 Pat Travers
1977 Makin' Magic
1977 Putting It Straight
1978 Heat In The Street
1978 The Pat Travers You Missed Mini-Album (EP)
1979 Live! Go for What You Know (live 1978)
1980 Crash and Burn
1981 Radio Active
1982 Black Pearl
1984 Hot Shot
1990 School Of Hard Knocks
1991 Boom Boom (live 1990)
1992 BBC Radio 1 Live In Concert (live 1977 & 1980)
1992 Blues Tracks
1993 Just A Touch
1994 Blues Magnet
1995 Halfway To Somewhere
1996 Lookin' Up
1997 King Biscuit Flower Hour (live 1984)
1998 Blues Tracks 2
2000 Don't Feed The Alligators
2000 Boom Boom – Live At The Diamond Club 1990 (CD & DVD)
2003 Etched In Stone (2-CD live 2002)
2003 P.T. Power Trio
2003 From The Front…Live! (DVD-Audio live 1984)
2005 PT=MC2
2006 P.T. Power Trio 2
2007 Boom Boom (Out Go The Lights) (live)
2008 Stick With What You Know – Live In Europe (live 2007)
2009 Travelin' Blues
2010 Fidelis
2012 Blues on Fire
2013 Live at the Bamboo Room ( live cd + dvd )
2013 Can Do
2015 Retro Rocket
2015 Feelin' Right (The Polydor Albums 1975-1984 Remastered)
Click on the following link to see more Pat Travers Photos & Artwork:
PAT TRAVERS SEATTLE 78 PHOTOS
and
PAT TRAVERS ARTWORK BY BEN UPHAM
and
PAT TRAVERS CD'S TO PURCHASE