"Frank Marino…Reincarnated Rock and Roll"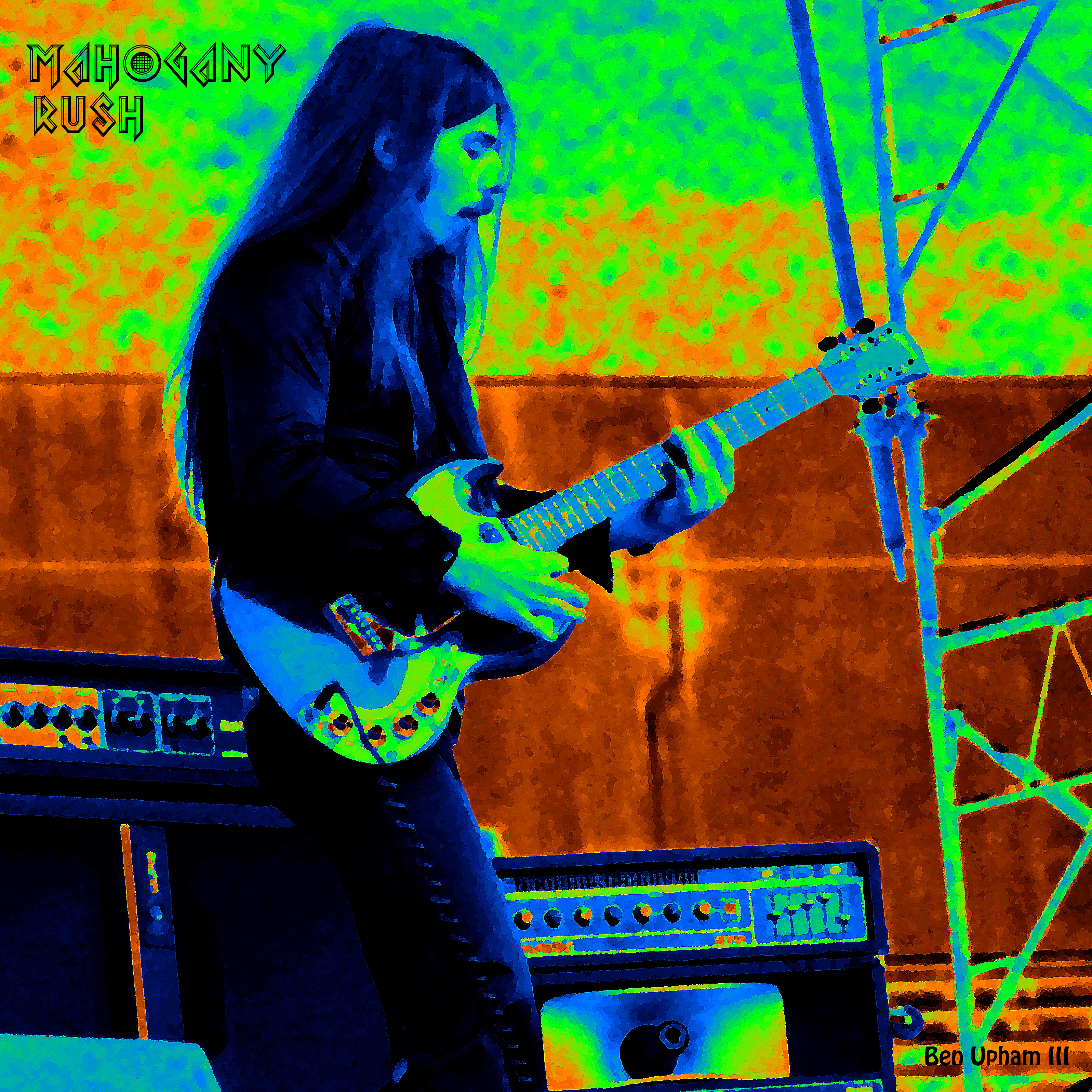 Mahogany Rush Photo/Art by Ben Upham.
CLICK ON THE FOLLOWING LINKS TO SEE MAHOGANY RUSH PHOTOS AND ARTWORK:
WINTERLAND 8-31-75
and
OAKLAND, CA. 6-6-76
and
SEATTLE 4-14-78 (B&W)
and
SEATTLE 4-14-78 (COLOR)
and
MISSOULA, MT. 5-25-79
and
SPOKANE, WA. 7-23-79
and
MAHOGANY RUSH ARTWORK by BEN UPHAM III
"Frank Marino…Reincarnated Rock and Roll"
by Steve Caraway
Guitar Player Magazine
September 1976
Frank Marino has an incredible story to tell: tales of hospitalization seven years ago at the age of fourteen due to the effects of massive doses of LSD, recuperating to realize that he could suddenly burn on the axe, and at last finding himself on stage leading the Canadian hard rock trio, Mahogany Rush.
"I believe you can do anything you want to do," Marino asserts. "I was in the hospital high on acid, and I thought I could play the guitar, so I picked one up, and I played it. I never had any formal learning process on the instrument, and I miss that. From day one I played the way I play now."
After weeks in a Montreal hospital, Frank returned to his home to put his life back together. He discovered that even with his new found talent few musicians would make music with him. "I was too crazy for them," he recalls. "They just couldn't understand. Eventually I began to jam around at friends' houses, and I met [drummer] Jimmy Ayoub and [bassist] Paul Harwood, and that was it. It's always been the three of us, Mahogany Rush,"
An old Gibson Les Paul SG (with a "Lonnie Mack" spring vibrato) that Marino played in his formative years, and that he worked long to payoff, was smashed by his brother in a fit of rage. Next, it was on to a Gibson SG Special that Frank calls the best guitar he ever owned, but this particular treasure was later stolen.
These aged Gibsons were being plugged into a couple of Fender Pro Reverb amps, feeding into two Marino-made cabinets, housing eight Marsland speakers. The whole setup was pre-amped with a small solid-state Viking amplifier. The Marsland cones were later replaced with JBLs.
Listening to Mahogany Rush's music, one can't help but be reminded of the music of the late Jimi Hendrix. It is no surprise then, that this group's first LP, Maxoom, was dedicated to this legendary guitarist/composer. Although artists like Frank Marino have been ridiculed for their similarities to Hendrix, the Canadian guitarist refutes such charges directly: "When I started playing I wasn't listening to anybody. People can't believe I didn't put on Jimi's sides and learn the tunes. But the whole style just came naturally. I didn't choose it; it chose me."
Today Marino especially enjoys the guitar work of Kenny Burrell, George Benson, Bill Connors, and Al DiMeola, and calls Johnny Winter "the best bottleneck slide player today." Within Mahogany Rush's format, Frank utilizes his tremolo to achieve a slide guitar effect. On "New Rock And Roll" from 'Child Of The Novelty' Marino uses this technique impressively to deliver Winter-tinted "slide" licks. The same sound is heard on "Satisfy Your Soul," on 'Strange Universe'.
"I press on the tremolo bar," he explains, "and this action makes the licks I'm playing very fluid. The vibrato is an instrument in itself, and can be used wisely, or it can be abused.
"I hate Bigsby tremolos," he asserts, "You can't use them for anything but noise or vibrating a chord. They don't drop down at all. You can't get any kind of feel from it. On my SGs I have the old stock vibrato bar, and on the Strat that I play, I have a standard Stratocaster tremolo."
Frank currently performs on an old Gibson SG Junior that has been "taken down all around" by a guitar repairman in Montreal. This lightweight instrument is fitted with three black Stratocaster pickups and a built-in preamp, which is operated by a small extra toggle switch on the body of the guitar. Because of his love of light guitars, Marino rejects the Les Paul line of Gibsons primarily because of their weight. He savors the sound of a Strat but prefers the feel of an SG- thus the Strat pickups in the body of his SG.
"Some people," he continues, "who desire that Fender/Gibson setup will try mounting a Gibson neck on a Strat body. But you still get that 'off-center' business."
Onstage, Frank will occasionally strap on a 1960 Fender Stratocaster, or he may snatch a stock SG Standard with two hum-buckers in the power seat. His collection at home includes a new SG Special, a Fender electric l2-string, a Kalamazoo, and a Hagstrom 6-string.
Pick selection varies for Marino. He likes a Fender heavy for better harmonics and a Fender medium when he wants to play more actively on the fingerboard. He has gone so far as to use a quarter as a plectrum to achieve the desired "chunk" sound.
Strings have posed a bit of a problem for this young artist. "I'm always looking for better ones. Lately I've used Ernie Balls, Darco, Rosefeld, all super-light gauge, because I move around a lot on the neck. For a while I kept changing makes, and they just kept going further and further out of tune. I guess I'm looking for some kind of magic answer in strings."
Frank plays 'live' gigs backed by a comparatively new amplification system. Pushing that Mahogany Rush sound are two Sunn Coliseum lead amps with two Sunn 412LH cabinets per head. A part of Marino's power lineup is also an Acoustic 270 stack utilizing 170 bottoms. The musician admits that the power, highs, and bite of the Sunns tend to bring out the rawness of his guitar. "With that kind of clarity," he remarks, "you get all the pick, hand, and string noise." Either or both amp lineups can be kicked into action by a switch¬operated pedal.
The pedal arrangement used by Frank when he plays 'live,' looks like a display for a music convention. A dozen or more pedals, buttons, and devices are at his disposal, and he employs them with care. "I have a number of volume pedals out there and a couple of wah-wahs, each for a different effect," he begins. "I use an Echo-plex, a Big Muff fuzz unit, and an Eventide flanger. Those-along with my stack switches and a Maestro phase shifter- make a hell of a collection of foot-switches. I don't like to get too dependent on the pedals," he adds. "They're not just devices, they're instruments, and one should use them as instruments."
Though the three Canadian musicians exhibit a dynamic stage presence, 'live' appearances can be difficult for the group's leader. "I like to perform when I feel I'm actually adding something to my music," he explains. "But conditions onstage sometimes make it so hard to play well and to be good visually. The problems can get heavy, and once in a while things seem to keep getting worse and worse. On occasion I find it really hard to go out and put on a show."
Writing seems to come more easily than performing for Frank (who also plays various keyboard instruments). He works out new material mainly on his 6-string. "I write a lot of music on the guitar, but sometimes I'll actually compose tunes on the drums," Marino notes.
The 21-year-old performer appears to be able to play almost any style on the guitar, from jazz, to classical, to blues, to all types of contemporary rock. He proves himself to be as well-versed technically as he is musically, exhibiting impressive control of the devices with which he delivers musical statements in the comparatively new electronic music field.
"I know what Jimi Hendrix was talking about when he sang of images like cellophane typewriters," Frank muses. Speaking of his own musical objective, he continues, "It's the slow-motion/ speeded-up sound of that typewriter. I want to make music where you won't hear a guitar, a drum, or a bass-you won't hear any instruments. When you hear a great symphony you don't think, 'cello, violin, timpani;' it's the effect of all the notes.
"I want to make the ultimate record that will capture the sound I hear. I can't tell you exactly what that sound is- I never get it, never. I get similes of it. In "Land Of A 1000 Nights" or in "Maxoom", you can almost hear what I mean –like clothespins and lamp posts singing…..you can envision it!"
FRANK MARINO & MAHOGANY RUSH DISCOGRAPHY:
1971/1973 Maxoom
1974 Child of the Novelty
1975 Strange Universe
1976 IV
1977 World Anthem
1978 Live
1979 Tales of the Unexpected
1980 What's Next
1981 The Power of Rock 'N' Roll
1982 Juggernaut
1986 Full Circle
1988 Double Live
1990 From the Hip
1997 Dragonfly (Best of)
2000 Eye of the Storm
2004 Real Live
CLICK ON THE FOLLOWING LINKS TO SEE MAHOGANY RUSH PHOTOS AND ARTWORK:
WINTERLAND 8-31-75
and
OAKLAND, CA. 6-6-76
and
SEATTLE 4-14-78 (B&W)
and
SEATTLE 4-14-78 (COLOR)
and
MISSOULA, MT. 5-25-79
and
SPOKANE, WA. 7-23-79
and
MAHOGANY RUSH ARTWORK by BEN UPHAM III