RUSH- "RUSH RIGHT DOWN" (1977 LIVE ALBUM REVIEW)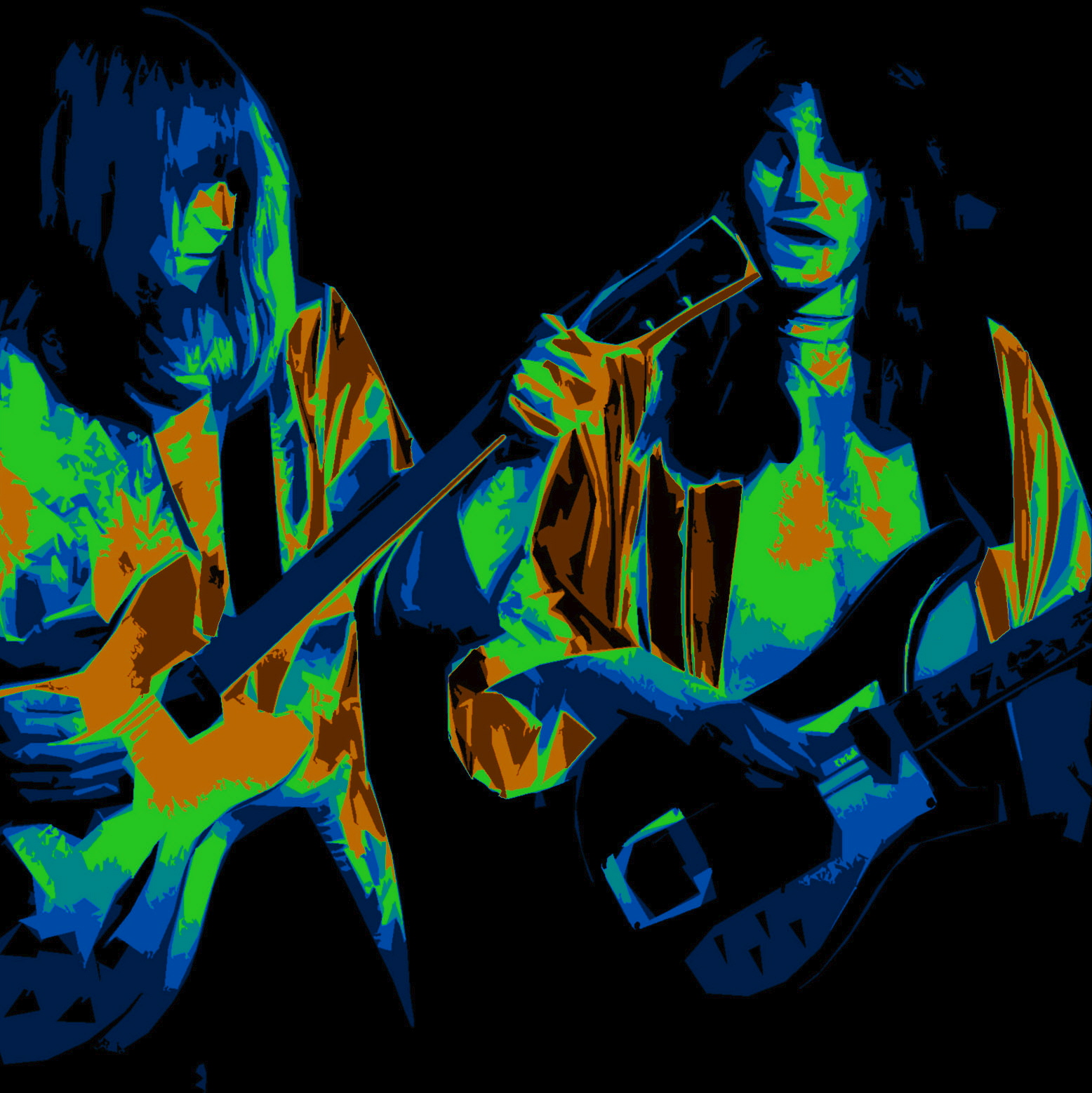 RUSH PERFORMING LIVE AT THE SPOKANE COLISEUM IN 1977. PHOTO/ART BY BEN UPHAM.
CLICK ON THE FOLLOWING LINKS TO SEE MORE RUSH PHOTOS AND ARTWORK:
RUSH IN SPOKANE ON 9-16-77
AND
RUSH ARTWORK BY BEN UPHAM III
"Rush Right Down" (a 1977 album review)
by Henry Schissier
September 1977
There's a deep-rooted musical prejudice against rock and roll trios. It's obvious. Talk to a music critic. Rush, a five-album Canadian Hard Rock unit, is the prime example of this particular concept and prejudice. Lead guitarist Alex Lifeson, bass guitarist and lead vocalist Geddy Lee and drummer Neil Peart are Rush. Consider the status quo: elaborate staging and special effects, extra instruments, percussion and electronics and a lead singer who just sings. Such an experience as Rush, therefore, is difficult to comprehend and accept with open arms. At first, they feel funny.
Wherever Rush plays, fans fill the hall with awe-inspiring enthusiasm: screams, banners and mini-torches are unfurled for a band that receives little to no airplay and is virtually unknown in every American city. When Geddy, Alex and Neil take to the stage, it becomes glaringly obvious that the Rush cult supports their band more actively and vocally than most "household word" rock bands like The Eagles, Chicago or The Band.
Rush begins their set with Bastille Day, a five-minute hook line rock 'n roller. It's the only short (concise) song to be offered until the very end of the show. Musical roles are quickly established: Lee is the front man. He does all the singing, as well as the bass playing. Lifeson is much less predominant a figure. During lead guitar solos, he often steps back rather than forward. Peart's drumkit, massive and slightly presumptuous, is situated on a high platform and dominates the stage. During the more concept-oriented pieces that followed Bastille Day-like a shortened version of their 2112 LP (the side-one story of a boy who finds an electric guitar in a repressed future world)-Peart adds percussion effects and rhythmic asides that give the band a full-bodied rivoting persona as effective as any six-piece unit. The fans are very pleased.
At the end of the set, Rush plays Working Man from their first album, then interjects Finding My Way. The group shows a strange aversion to short songs. Working Man, like Bastille Day, is an exhilarating rock and roller, the kind of tune rock audiences thrive on The precision of the tune exemplifies the skill and determination of Alex, Geddy and Neil, justifying their growing cult popularity and consistent record sales (now nearing the 500,000 mark on their latest two-record set "All the World's a Stage").
Backstage, Geddy talks freely about Rush's problems in gaining critical acceptance. At one point, the group held lengthy discussions about adding a fourth member to their band. the obvious pros would be a lesser work load for the three, more room for experimentation if, say, a keyboard player were added, as well as a more typical rock "format" that could strengthen their chances of gathering their share of critical notice. They chose not to because the musical rapport between them is already developed to maximum effectiveness. And, according to Geddy, Rush would rather tour endlessly, and continue to offer the best records they can, than sacrifice their individuality and distinctive sound for the sake of music industry approval. Don't get Rush wrong. They're not on a crusade. They merely believe in what they're doing, and will continue until, someday, the critics stand up and take notice. Their fans will, once again, be very pleased…
RUSH DISCOGRAPHY:
1974 Rush
1975 Fly by Night
1975 Caress of Steel
1976 2112
1976 All the World's a Stage
1977 A Farewell to Kings
1978 Hemispheres
1980 Permanent Waves
1981 Moving Pictures
1981 Exit, Stage Left
1982 Signals
1984 Grace Under Pressure
1985 Power Windows
1987 Hold your Fire
1989 Presto
1989 Show of Hands (Live)
1991 Roll the Bones
1993 Counterparts
1996 Test for Echo
1998 Different Stages (Live)
2002 Vapor Trails
2003 Rush in Rio (Live)
2004 Feedback (Live Covers)
2005 R30 30th Anniversary World Tour (Live)
2006 Grace Under Pressure Tour (Live)
2007 Snakes & Arrows
2008 Snakes & Arrows Live
2011 Time Machine
2012 Clockwork Angels
CLICK ON THE FOLLOWING LINK TO SEE MORE RUSH PHOTOS AND ARTWORK:
RUSH IN SPOKANE ON 9-16-77
AND
RUSH ARTWORK BY BEN UPHAM III