ROBIN TROWER- "Twilight Comfort Music for Brokenhearted Souls"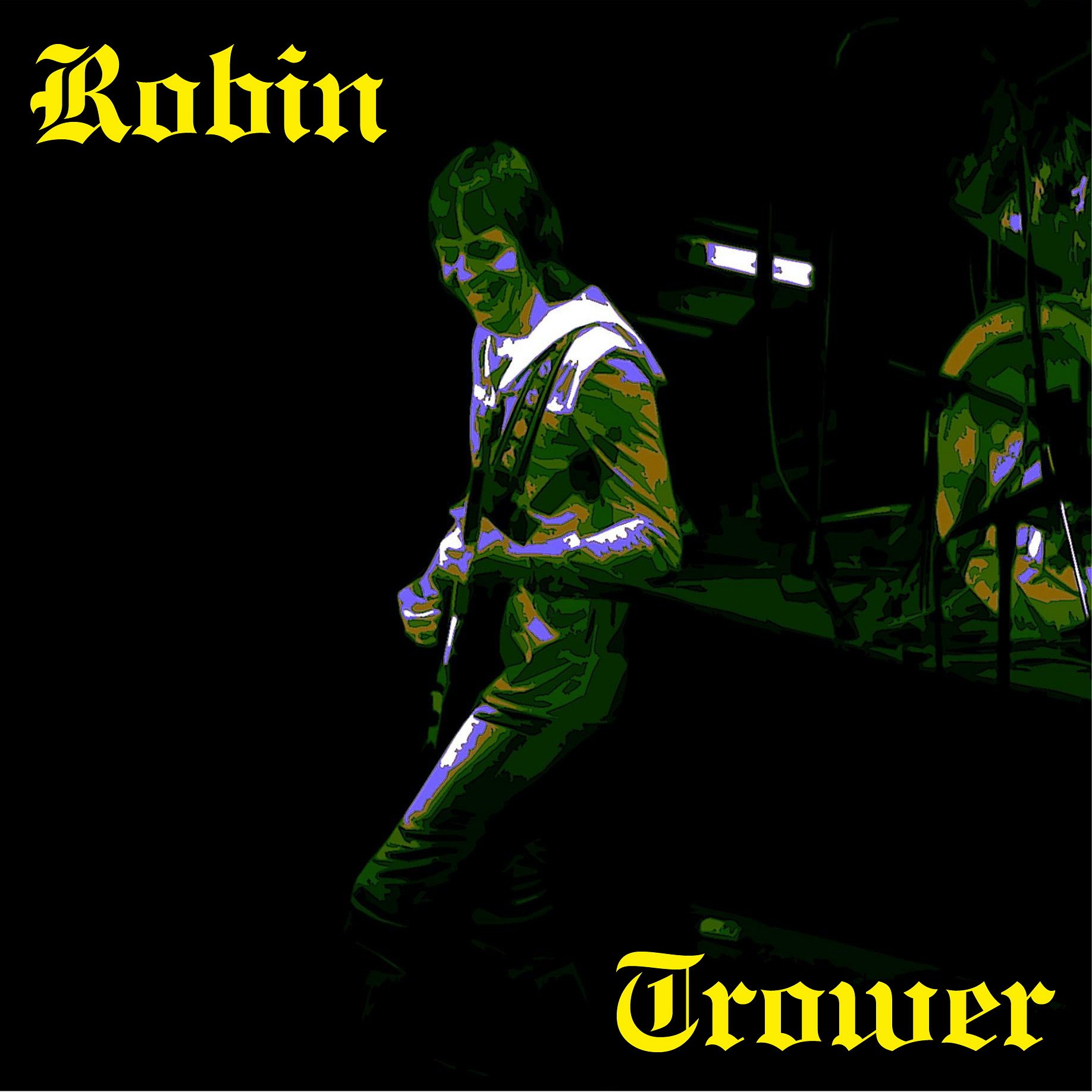 ROBIN TROWER AT WINTERLAND IN MARCH 1976. PHOTO/ART BY BEN UPHAM.
CLICK ON THE FOLLOWING LINKS FOR ROBIN TROWER PHOTOS & ARTWORK:
WINTERLAND 5-7-76
and
ROBIN TROWER ARTWORK by BEN UPHAM III
ROBIN TROWER-
"Twilight Comfort Music for Brokenhearted Souls"
by D. Lawless
November 19, 1976
On "Long Misty Days", following the relative stagnation of his last two albums, Robin Trower re-emerges as a ship-wrecked survivor, smiling
out of a rubber life-ring in the middle of the ocean beneath stormy skies. While there's nothing here to match the cosmic significance of the classic Bridge of Sighs, this is a return to the song form, which, in itself, is an improvement over the meandering formlessness ot his last studio album.
At one time, Trower was the obvious heir to the Hendrix crown, being the most apparently serious and devoted disciple of the Hendrixian form. Despite certain obvious stylistic similarities, tho', Trower's work, from Procol Harum onward, has ,always been marked by a deliberate, elliptical clarity of purpose; whereas, Hendrix appeared to be an impulsive, sleight-of-hand magician whose casual, throwaway manner underscored his best lines, For a while, the Hendrix comparison worked in Trower's favor, launching him into immediate pre-eminance following his departure from Procol Harum. It continued to work for him until the lustrous Bridge of Sighs, wherein Trower established a definitive style of his own, farther removed from the role of grimacing metal messenger that he'd encouraged up 'til then. Bridge was probably; for the public, the apotheosis of Trower's devotional acknowledgement to the Hendrix form as well as Robin's most ambitious exhibition of his own style, which was as hypnotically implosive as Jimi's was flashily explosive.
From the triumphant Bridge, Trower continued to explore and define his own quietly smouldering style, even in the face growing public disinterest. If the public wanted a Hendrix double, let some psycho-geneticist create one for them. Robin had his own direction, and he wasn't going back. Unfortunately, though, in "For Earth Below", Trower didn't appear to be moving forward either. His direction on Earth was muddled, and vague, and his rejection of the song form (with its linear narrative and minimum quota of hooks) only confused his most devoted fans. He seemed to have lost his zip. Either than, or he was an artist locked in a room with a naked concept that only he could perceive.
While the story behind that story remains a mystery to me, it's clear to see. that Robin's back in the thick of it on Long Misty Days. At least, he's pursuing a less ethereal more coherent emotional vision. His thick, liquid solos spill forth from a solid blues base of grating, metallic shavings and unfold in musical gear-wheels of varying speeds that mesh and simultaneously evaporate. The slithery insinuations appear to emanate from some mysterious torque, and Trower's role here is like that of the store detective who, in actuality, is secret ringleader of a busy band of shoplifters. In other words, while his technique is unspectacular, he's confidently demagnetizing your defenses and running away with your worries. Don't even try to resist. Just sink right into it. And say "thank you" when you're through listening.
Using the blues as a common denominator, Trower, more than anything, soothes the hurt by drawing it out slowly. That's his basic thrust on Long Misty Days. It's twilight comfort music for those brokenhearted souls befuddled by the rude disappearance of daylight that heralds the Wintertime.
Drummer Bill Lordan has never sounded better, poking through Trower's electric spiderweb with a subtle but sparky variety of percussive accents, and James Dewar's aching, melting vocals come across' more clearly here (cleaner recording) than on any of the previous records. The title track, "I Can't Live Without You' 'and an irresistible dancer, "Caledonia," are my favorites.
There's a subdued, compressed but still definite emotional charge that permeates everything on Days. Robin Trower has at long last transcended the "guitar hero" label that wasn't doing anything but cramping his style. His current moves are, less florid, more economical than before, without any loss of depth or nurturing warmth. If you're ready to be entranced and gently beguiled, you'll like Robin Trower's latest. If you're a sanguine hardcore, hard rock pseudo/masochist and latent speedfreak with an urgent desire to be smithereened into submission, better look elsewhere.
ROBIN TROWER:
1973 Twice Removed from Yesterday
1974 Bridge of Sighs
1975 For Earth Below
1976 Robin Trower Live
1976 Long Misty Days
1977 In City Dreams
1978 Caravan to Midnight
1979 Victims of the Fury
1981 B.L.T. (w/Bill Lordan & Jack Bruce)
1982 Truce (w/Bill Lordan & Jack Bruce)
1983 Back It Up
1985 Beyond the Mist
1987 Passion
1988 Take What You Need
1990 In the Line of Fire
1994 20th Century Blues
1995 Live in Concert
1996 In Concert
1997 Someday Blues
1999 This Was Now '74-'98 (Live)
2000 Go My Way
2004 Living Out of Time
2005 Living Out Of Time: Live (Note: Also available on DVD)
2005 Another Days Blues
2008 Robin Trower at Royal Oak '08 (Live)
2008 Seven Moons (w/Jack Bruce)
2009 What Lies Beneath
2010 The Playful Heart
2013 Roots and Branches
2015 Something's about to change
2016 Where are You going to
CLICK THE FOLLOWING LINK TO SEE ROBIN TROWER PHOTOS & ARTWORK:
WINTERLAND 5-7-76
and
ROBIN TROWER ARTWORK by BEN UPHAM III