JORMA KAUKONEN- "Fugitive from the Past"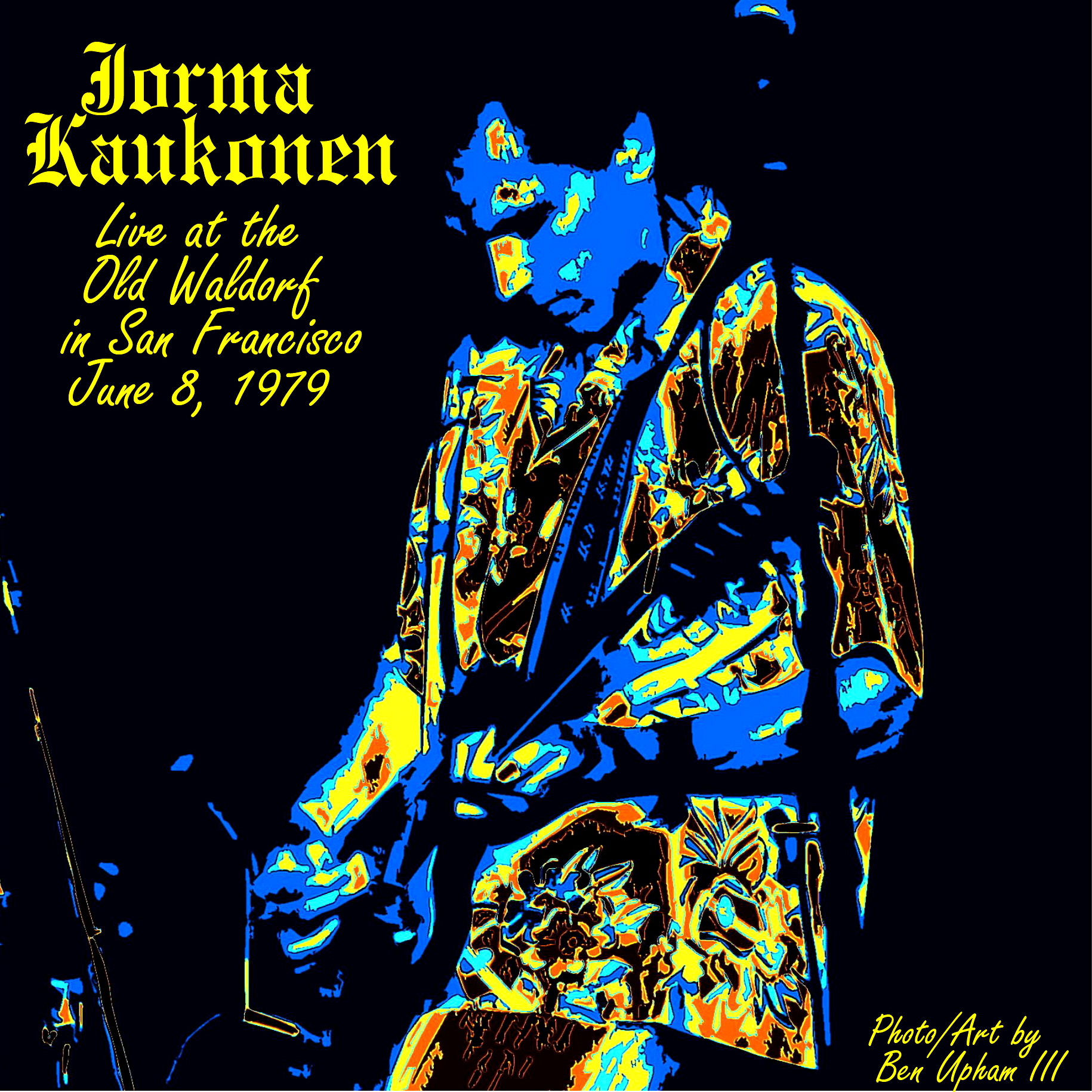 JORMA KAUKONEN PHOTO/ART BY BEN UPHAM.
CLICK THE FOLLOWING LINKS TO SEE MORE JORMA STUFF:
MAGICAL MOMENT JORMA PHOTOS BY BEN UPHAM
and
FINE ART AMERICA JORMA IMAGES BY BEN UPHAM
and
PURCHASE JORMA CD'S AND DVD'S
JORMA KAUKONEN- "Fugitive from the Past"
by Martin Porter
Guitar World Magazine
September 1980
Up on the stage the group could easily pass for any number of new wave rockers that are trying to forge a place for themselves on the current rock & roll scene. The sound is loud and basic. The three man organization known as Vital Parts keeps the show simple and rocking and impressively meshes a hard driving contemporary sound with a respectable dosage of the grand masters, from Bo Diddley to Chuck Berry. And despite the fact that the group has yet to cut an LP and is out on it's maiden concert voyage, the crowd is sizable and already adoring.
How come?
Because the man out front, the one with the slicked-back greaser cum rockabilly hairdo, pounding away with a raw combination of heavy metal power chords and blues/country flat-picking, is a bonafide grand master in his own right. In the revolving door of pop stardom, Jorma Kaukonen is among the rare breed who have survived the whims and follies of public taste.
For the former lead guitarist with Jefferson Airplane and founding father of Hot Tuna, survival has never meant taking the easy way out. It has meant taking chances, doing what moves him at any given moment, changing styles, and adapting while many of his San Francisco com¬patriots have stiffened and fossilized.
For Kaukonen it meant bailing out at 2,000 feet with an Army surplus parachute just when Jefferson Airplane (on the verge of Starship) was hitting stratospheric levels of commercial success. It meant pulling the plug on his famed psychedelic Gibson 345 stereo guitar and picking up an acoustic for an exploration of American traditional sounds. And once again it meant abandoning the hot Hot Tuna ship when that too grew stale. Once again, his current venture has taken him back even further to a fun, devil-may-care rock-and-roll that has left his old following disappointed, his new following raring to go, and his record label (RCA) wondering what this 39-year-old guitarist, vocalist and songwriter of Finnish descent is going to pull on them next.
"I don't live in the past at all, like a lot of people do," Kaukonen ex¬plains, reclining on the king-size bed in his motel room between gigs. It is Mother's Day and the motel lobby is crawling with families. There is no room service. Kaukonen has a local radio station on the air. "It is pretty funny to see a nostalgia period start happening. It makes me want to throw up. I hope that if I get hot again it has nothing to do with that nostalgia stuff."
He has been trying to get the same message across to the promoters on the recent tour that have been billing the new. group as a hodge-podge of acoustic/electric Hot Tuna/Airplane on the venue marquees. Anyone shell¬ing out eight bucks for the old Jorma Kaukonen sound was due to be disappointed. So was Kaukonen himself. In the midst of the interview the radio d.j. announced a special, weekend salute to Grace Slick and the Jefferson Starship, both of whom have long ago gone off on their own orbits, both of whom have current LPs on the Bill-board charts. No matter how hard he tries, Jorma Kaukonen can't escape his past.
"I don't mind talking about the Airplane because that was a fact of life and I had a good time. We are doing an interview and talking about it, but as far as a company putting together a current reality program, that stuff is shit, who cares?
"We've got a good rock-and-roll band. I don't know how to categorize it because that's not what I'm into. I think we are going to make a good rock-and-roll album. We have a lot of good material. We will have a good product and if we can get the company behind it it'll go. I think the timing is perfect for it. But it would almost be easier for the other two guys (Denny DiGorio on bass, Scott Herron on drums) to be playing with another guy. because they wouldn't have to be playing with the inertia from the past.
"You know, in fact, before I went out on this tour I took my old stereo Gibson out of the closet, the one I used to play with the Airplane. But the old stereo sounded pretty awful. I don't know if it was the guitar or if it was the way I was playing now."
That psychedelic painted stereo Gibson and Kaukonen, whose hair then was a trademark, shoulder length and scraggily, cut a handsome couple during those mid-sixties years when psychedelics and flower power were the code words for a new generation that for some reason found its home in San Francisco.
"Something special was happening in the 60's in general and in San Francisco in particular," Kaukonen relates freely. "That was fun to be in; we were all younger then. There was a lot of activity, a lot of real things happening, people becoming aware of things that they hadn't been aware of before, people becoming aware of political realities. Paul (Kantner) was really into the intellectual aspect of what was going on. I was just interested in playing the guitar."
Kaukonen began playing guitar in high school, first a Gibson J -50 and then an ancient L-5 Gibson jazz model, and began working in bars in Washington, D.C. With the mixed influences of rockabilly and rhythm-and-blues he began strumming the simple Everly Brothers and Bo Diddley songs that were then popular. It was when he attended Antioch College in Yellow Springs, Ohio that he became interested in the finger style guitar. It was there he met Ian Buchanan, a friend of the Reverend Gary Davis who taught him the basics of the blues guitar. After a short jaunt to the Phillipines, Kaukonen ended up in California, in Santa Clara, and there worked his way into the then burgeoning folk circuit. He joined forces with a banjo picker named Paul Kantner, a stand-up bass player and formed the nucleus of the band that a fashion model with a pedigree named Grace Slick would lead to national acclaim.
The style of music the band evolved was a spaced-out cousin of the current pop idiom, dressed in madras prints, light shows, feedback and half-hour lead guitar solos. At the root of the problem was the ad-mixture of the blues and lysergic acid (LSD).
"The drug scene was happening, that was a big part of what was going on," Kaukonen says. "After the fact it sounds real easy to say the drugs were responsible; they were just a factor. I don't trip while I play. But the drugs were certainly conducive to listening."
For Kaukonen a more important influence was the sudden onslaught of new equipment that was first being made available to the inventive guitar players of the day. "More important than the drugs was the fact that I owned four Fender Twins (that were eventually stolen by a disgruntled roadie who split for Morocco), a wah-wah pedal and a fuzz tone. You would hear people doing stuff and it was fun. Playing the electric guitar is a real physical thing and prior to that time there really weren't that many guitar players getting the maximum out of the instrument. There was just a trans¬formation of what people were doing with it: Before that time people were just going for the clean sound. Every day it was something new.
"Today if I'm listening to a song on the radio and a guy takes a half-hour solo I get bored to tears after about five minutes of it. That stuff was real self-indulgent. In those days a lot of it was happening because a lot of guys who were up on stage were still learning how to play the guitar. They were practicing their instrument and getting paid for it .. Now here's a case where drugs figured strongly. In those days people were getting high on psychedelics. Hell, I've been high on acid and watched the toilet flush for a half hour. You can get behind anything if you get high enough."
Kaukonen came down from his high with the Jefferson Airplane in 1972 when he and Airplane bass player Jack Casady called it quits.
"Boredom caused the split," Kaukonen explains. Still stationed with his back flattened against the back¬board of the bed, he lets his eyes drift to the four corners of the room. "I was tired of the music. The Airplane was starting to be kind of like being in a play, or something like that. Everything was pretty much the same every night. I think basically the reaction of the band members was pretty realistic about it.
"In my career most things have happened by accident. I guess there are some musicians who plan out every¬thing. I'm not one of them. What hap¬pened when we started Hot Tuna was that we had a material shortage and I just happened to know a lot of blues songs. They were fun to play so they became part of the repertoire.
The various transformations have also signaled a change in the hardware Kaukonen has favored over the years. "In the later Hot Tuna days I was using trillions of effects boxes. I've gotten away from it now almost completely. I'm using a Roland Chorus and a wah-wah and that's it. Right now the sound I like is those (Mesa) Boogies I've been using. That sound is killing me. I really like that clear guitar sound."
On stage today Kaukonen favors a Gibson L-5S, the ancestor of the guitar on which he learned how to play. For emergencies, and stationed near¬by, are a Firebird and a Strat. The Fire¬bird is a reissue (number 65) that has been busted and repaired several times. "It's a real strange guitar," Kaukonen comments. "The neck is about two inches thick and the strings that I'm using on it are twice as heavy as heavy gauge strings. It's an utterly bizarre guitar. It's not fun to play with on stage but its great in the studio. Its got a real full sound. I had an old Fire¬bird that I just sold. Just because a guitar is old doesn't mean it's good. Some of them are good and some of them aren't."
As far as Kaukonen is concerned the same goes for bands. Hot Tuna was good and as with the Airplane could have hobbled along on momentum alone had he and Jack Casady once again not decided to can the whole thing. The two took up speed skating and went their own ways. Casady formed a new wave group and Kaukonen hit the studio for his second solo LP (the first since Hot Tuna) called "Jorma" which sounds similar to early-day Hot Tuna, but which Kaukonen feels "bridges the gap between Hot Tuna and today." However, the difference between the two caused problems on the recent tour.
Up until five minutes before going on stage the promoter and my stage manager were telling me they wanted me to play acoustic. They were telling me, 'Why don't you just take your acoustic and hold it?' I told them to forget it. 'It's going to work out okay.' The same old man-and-his-guitar syndrome," Kaukonen says.
The shows worked. The pared-down, economical rock-and-roll the new band presents is a complementary sound to the currently popular new-wave trend. So is Jorma Kaukonen's look. His hair is slicked back and short ("I was a greaser in high school," he explains). His body has been adorned in a fantastic tattoo fantasy that has been gradually gaining territory over the past few years and which will soon occupy his chest and leg with a portrait of a tiger in a bamboo grove. ("Small pictures don't have any impact. It's like doodling on a telephone book. If it's a good tattooist, get something big, something big to look at.)" And with his lanky, slim physique he could easily pass as a punk rocker on the make. However, this guy just happens to be pushing 40, lives with his wife in California, doesn't get into hanging out, prefers working on cars, and working in a dark room. And while any astute record mogul could easily repackage him "a la nouveau wave," Kaukonen himself just grunts, "It's all rock-and-roll to me."
Is the current music scene in New York at all reminiscent of the good old days of the Haight-Ashbury 15 years back? Kaukonen feels that it is. "What I'm really impressed with today is the energy and general ambiance. People are having a good time again. It is a bona-fide scene in New York. Something vital is going on now. In San Francisco the same thing is starting to happen."
Clearly the children of the Haight have gone their own ways and while those who missed the boat would like to feel that the groups and gurus that stood America on its ear 15 years ago are still one big happy communal family, that is anything but the case. Janis Joplin, with whom Kaukonen
played in the early days, is long dead Bill Graham is playing Bill Graham in Apocalypse Now.
And Jorma Kaukonen?
Jorma Kaukonen is still trying something new. His motel room may not be the plushest New York can offer. His royalty checks from BMI often total only 62 cents. But at least he hasn't grown stale-at least he is closely in tune with what is happening today and wants to cut himself off
from the restraints of his history as much as he can. He explains by analogy:
"I used to have a pretty big collection of guitars but I've sold them. I just didn't like seeing them sitting around not getting played. I still have the Gibson Stereo, but I'm not attached to it or nothing. I can be bought. I would sell it for the right price. When they have the rock-and-roll hall of fame they are welcome to it."
As if he had been waiting for the most opportune moment, the d.j. on the radio again announces the upcoming Grace Slick and Jefferson Starship weekend salute. Jorma Kaukonen releases a humph that makes it clear he couldn't give a damn.
If you enjoyed this Vintage article about Jorma please leave comments and share your interest.
Thanks for reading and being interested in such a fine Musician and Artist!
JORMA KAUKONEN SOLO DISCOGRAPHY:
1974 Quah
1979 Jorma
1981 Barbeque King
1985 Magic
1985 Too Hot to Handle
1994 Embryionic Journey
1995 Magic II
1995 The Land of Heroes
1996 Christmas
1998 Too Many Years
2001 Jorma Trio Live
2002 Blue Country Heart
2007 Stars in my Crown
2009 River of Time