FRANK MARINO & MAHOGANY RUSH- "KEEPING ON THE STRAIGHT AND NARROW"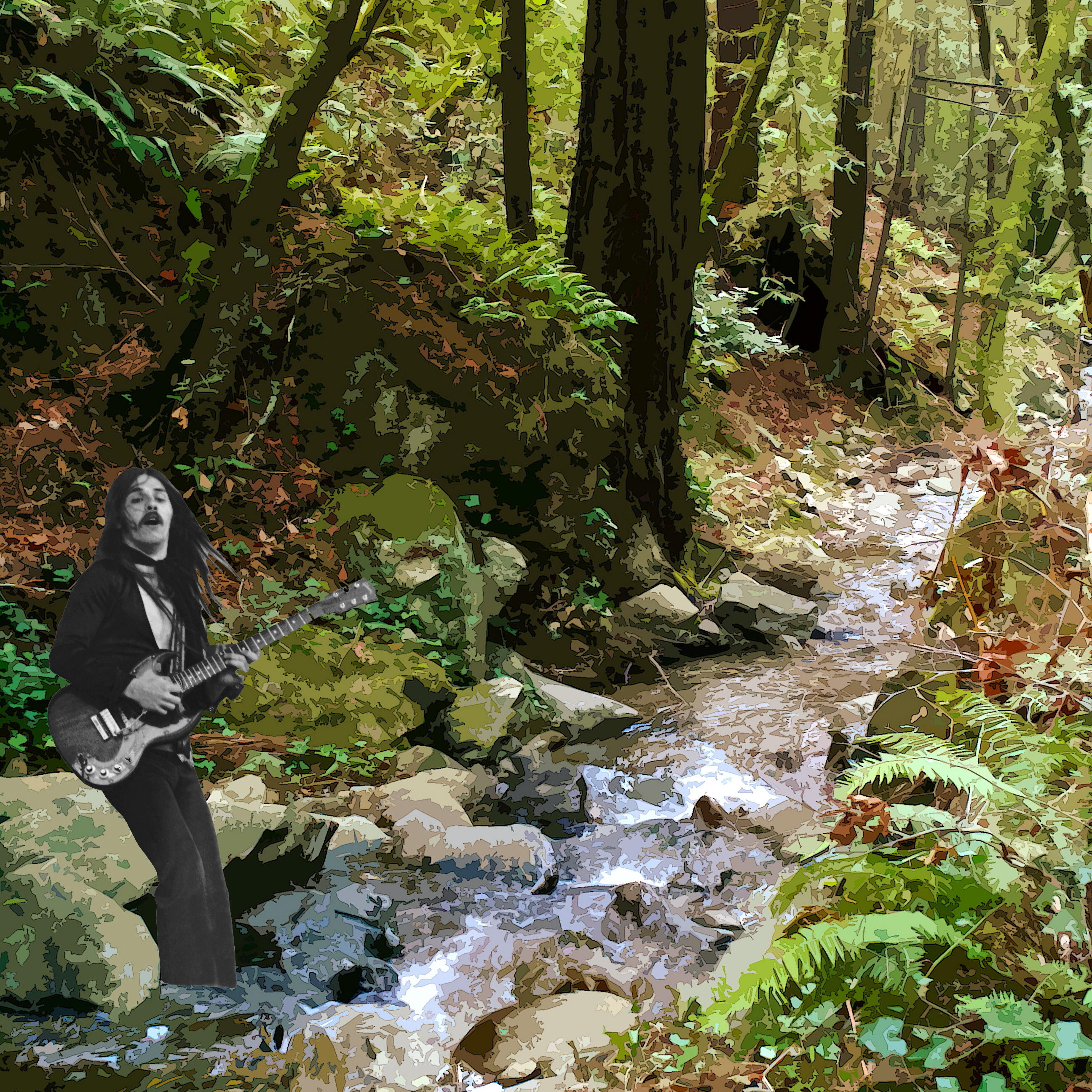 FRANK MARINO OF MAHOGANY RUSH PLAYING IN A CREEK ON MT. TAMALPAIS. PHOTO/ART BY BEN UPHAM.
CLICK ON THE FOLLOWING LINKS FOR MORE MAHOGANY RUSH PHOTOS & ARTWORK:
OAKLAND 6-6-76
and
SEATTLE 4-14-78
and
MISSOULA 5-25-79
and
SPOKANE 7-23-79
and
MAHOGANY RUSH ARTWORK by BEN UPHAM III
and
PURCHASE MAHOGANY RUSH CD'S
FRANK MARINO & MAHOGANY RUSH- "KEEPING ON THE STRAIGHT AND NARROW"
by Andy Secher
Pop Rock Special Magazine
Fall 1980
"I don't believe in following every new trend that comes down the pike," Mahogany Rush's lead guitarist and guiding light Frank Marino was saying recently, "Music that's good will always be good. That's why I think it's ridiculous to just jump on every new musical bandwagon that comes along. Disco and New Wave may be all right for some people, but I'll still take my chances with playing straight-ahead rock & roll."
Marino is undeniably something of an anachronism. With his waist-length hair, fringed leather stage outfits, and a guitar style that vividly recalls the halcyon days of such mid-60's rock titans as Hendrix and Clapton, Marino often seems like a man out of place and out of time. Yet, somehow he manages to survive and prosper, proving that guitar-dominated rock & roll is still as viable and exciting a musical form as ever.
"The type of music I play has really never lost its popularity," he said in a carefully worded manner. "People in media centers like New York or L.A. just don't seem to realize that the rest of the world doesn't always want to follow what they say is new and 'hip.' You go throughout the midwest, or down to Texas, and you'll really see what's happening on the rock scene. What it all boils down to is that people still want to hear loud, guitar-riff rock & roll and, quite frankly we're a band that can give it to 'em."
On their new album, "What's Next", Marino and cohorts Paul Harwood (bass) Jim Ayoub (drums), and brother Vince Marino (rhythm guitar) have deftly avoided even the slightest association with the "dreaded" frontiers of disco aod new wave, choosing instead to stay firmly within the confines of their heavy metal approach. While it may not be the most aesthetically pleasing of styles, there's' little denying that on songs like Rock'n'Roll Hall of Fame, and Marino's guitar showcase "Something's Comin' Our Way" the band has has successfully managed to revitalize many of hard rock's most time honored cliches. "I'm not trying to hype people when I say that "What's Next" is by far the best album we've ever done," Marino said in the clipped tones that reflect his Canadian upbringing.
"The band has become a lot more cohesive over the last year, and I think we've become a little more dedicated to our music as well. We really cover a lot of terrain on the album, everything from the old blues thing Rock Me Baby to our version of the Door's Roadhouse Blues, which is a real killer. All in all, I'm very proud of the album because it captures our vitality and all the energy that we have in our stage show. Sometimes we had to work for 48 straight hours in the studio to get a particular song to sound right, but I think the results are well worth the effort."
Somewhat surprisingly for a musician who has seemingly dismissed any temptation to incorporate new ideas into his musical philosophy, Marino has begun to plan a radically different Mahogany Rush for the future. "What I'd like to do, he said, "is get about nine or ten really talented musicians in the band. Maybe we'd even have four or five guitarists. I really don't have any intention of changing our style, but I'm fascinated with the possibility of creating what would be, in effect, a heavy metal orchestra. Everybody would have a very well-defined role to play, and if we could just get everyone to put their egos aside and concentrate on playing specific things, I think it could be fantastic. It would be like a hockey team with each player knowing his role and playing not for personal glory but for the good of the team. Of course," he added with a sly laugh, "every team needs a captain, the guy who can give orders and take command, and that guy would be me."
While his dream of a heavy metal "orchestra" is still a thing of the future, Marino faces a far more immediate task – that of being a major part in one of the most grueling tour projects ever conceived. Mahogany Rush, along with such major acts as Humble. Pie, Angel and Mother's Finest, has undertaken an unprecedented 100 city tour, billed as the "Rock and Roll Marathon," which sees them crisscross the United States from coast to coast. "I'm really looking forward to the 'Marathon'," Marino said.' "It's really a challenge, but we're a band that has always thrived on the road, so we're looking at it as a great opportunity to reach literally a million people with our music over the next few months. We're headlining almost everyone of the shows, which is a real advantage because we'll get a little more time on stage than the other acts. I think the 'Marathon' is a very daring, and a very good, idea. We're putting four top-notch bands on one show, and touring all over the country with the same people. We're not charging an arm and a leg for tickets, and with four acts I don't think anybody can complain about not getting their money's worth. But most importantly, what the 'Marathon' does is help project an image that rock & roll is still the most exciting thing around, and providing that is still what Mahogany Rush is all about.'
FRANK MARINO & MAHOGANY RUSH
DISCOGRAPHY:
1973 Maxoom (1971 in Canada)
1974 Child of the Novelty
1975 Strange Universe
1976 IV
1977 World Anthem
1978 Live
1979 Tales of the Unexpected
1980 What's Next
1981 The Power of Rock 'N' Roll
1982 Juggernaut
1986 Full Circle
1988 Double Live
1990 From the Hip
1997 Dragonfly (Best of)
2000 Eye of the Storm
2004 Real Live
CLICK ON THE FOLLOWING LINKS FOR MORE MAHOGANY RUSH PHOTOS & ARTWORK:
OAKLAND 6-6-76
and
SEATTLE 4-14-78
and
MISSOULA 5-25-79
and
SPOKANE 7-23-79
and
MAHOGANY RUSH ARTWORK by BEN UPHAM III
and
PURCHASE MAHOGANY RUSH CD'S