Foghat- "Foghat turns suburbia into 'Paradise Alley'.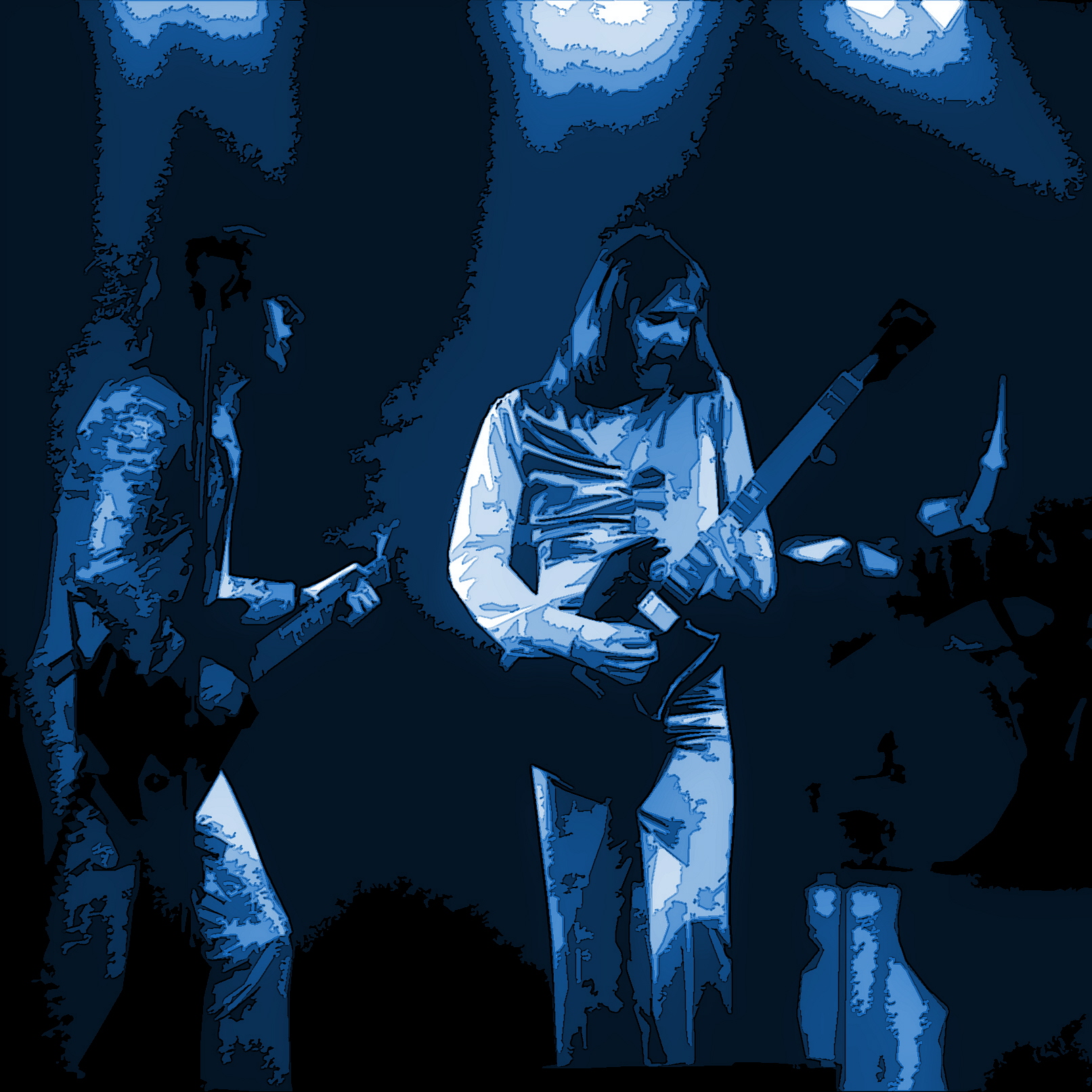 Foghat Rocking in Spokane on 2-2-77. Photo/Art by Ben Upham.
CLICK ON THESE LINKS TO SEE MORE FOGHAT PHOTOS & ART:
FINE ART AMERICA FOGHAT IMAGES
and
CLICK HERE TO PURCHASE FOGHAT MUSIC:
FOGHAT MUSIC CD'S
Foghat turns suburbia into "Paradise Alley"
by David Fricke
November 13, 1979
When Foghat, the Anglo-American boogiemasters, first moved from their London base to the bucolic calm of Port Jefferson, Long Island in 1975, no brass bands or mayors tendering keys to the city greeted them.
"We sort of snuck into the area," smiles 29-year-old guitarist Dave Peverett, better known as Lonesome Dave to the fans who bought six gold and two platinum albums' worth of Foghat records in the last eight years. "All of a sudden, they found out there was a band here."
Not everybody found out. Peverett has a good laugh at the expense of one elderly couple who walked into the former Moose Lodge and Slavic community center that now houses the six-month-old studio where Foghat recorded their latest LP Boogie Motel (Bearsville). "They came in while we were recording and wandered around, looking real puzzled. Finally, one of us walked up to them and asked if we could help them and they said 'We thought there was a play here.' They must have been using last year's schedule."
But contrary to the bluesbusting noise Foghat-Britons Peverett, drummer Roger Earl, guitarist Rod Price; and Connecticut Yankee bassist Craig McGregor make on stage and record, the band actually prefer to maintain a low personal profile. Only the occasional carload of kids racing by the studio yelling "Slow Ride" disturbs the small-town peace of Foghat's private lives, although Rod Price puts in a vote for the roar of Roger Earl's Lamborghini as the drummer races it up and down the back roads of Suffolk County.
"We have been 'stuck' out here for the last year," admits Peverett, a born city boy from London who misses English pubs and not much more. "But most of the other times we've been out on the road for three months and you need this. Most of the time we don't have time to be normal."
The normality of upper-class rock star living hasn't seriously affected the Foghat sound if Boogie Motel is any indication. Recorded over the last year and produced for the first time by the band itself with coaching from manager Tony Outeda, Boogie Motel smokes from the start of their cover of "Somebody's Sleeping in My Bed" (an R&B chart item in 1970) right through to "Nervous Reaction" and the title steamroller.
But the melodic flavor of "Third Time Lucky" and "Paradise Alley" is not only highly commercial but indicative of the calming effect environment has had on Foghat, an effect far removed from the hyper-intensity that marked the recording of Stone Blue almost two years ago.
"Making that album was a nightmare," wails Peverett, a nightmare that lasted six agonizing months. And the band as a whole is not unwilling to place a fair share of blame on producer Eddie Kramer and "a lack of enthusiasm on his part. He'd fall asleep at the board! 'Ah, I think that's quite a good vocal, eh, Eddie? Eddie?'
"It didn't work. It was," he says in an effort to downplay the sarcasm, "just for want of a better word 'bad vibes.' "
Boogie Motel was, on the other hand, fun to do. Free from the constraints of working in a rented studio with a highly paid overseer, Foghat broke in their new studio, experimenting with electronic tricks like the treated vocal on "Paradise Alley" and overdubbing as many as ten saxophones played by Bob Seger horn man Alto Reed on a single track. And the proud smiles each band member wears during a playback of the album in their studio only reinforces the opinion of one band acquaintance who says "they've never looked more relaxed than they do now."
Roger Earl, droll Irish-descended wit that he is, remarks that in the early years "we suffered for our art," but economic security has not dulled their love of life or music. Rod Price explains that at his recent wedding reception "I had some great bands- Foghat, Eddie Kirkland [blues guitarist who appeared at Foghat's '77 Blues Benefit in New York, and Alto Reed. I couldn't afford anymore," he laughs, "the liquor bill being what it was. If I'd known then what I know now, I wouldn't have gotten any food at all. I ended up with 20 pounds of swordfish in my freezer."
Foghat will be enjoying the comforts of home for at least another six months. Instead of hitting the road to support the new LP as is their usual wont, they will record another album in their studio and hold touring plans until at least March. But the benefit of living on Long Island is the large number of bars where the band can hang out and jam when the urge strikes. This past summer, Foghat actually played a surprise unannounced gig at a nearby club, advertising themselves only as the Riff Brothers, which led to some confusion according to Craig McGregor. "I was at the club when one guy called up and said 'Who's playing tonight?' 'The Riff Brothers.' 'Oh, is that the band that imitates Foghat?' That was a classic call.
FOGHAT DISCOGRAPHY:
1972 Foghat
1973 Foghat (Rock 'n' Roll)
1974 Energized
1974 Rock and Roll Outlaws
1975 Fool For The City
1976 Night Shift
1977 Foghat Live
1978 Stone Blue
1979 Boogie Motel
1980 Tight Shoes
1981 Girls to Chat and Boys to Bounce
1982 In the Mood for Something Rude
1983 Zig-Zag Walk
1994 Return Of The Boogie Men
1998 Road Cases (live)
1999 King Biscuit Flower Hour (Live)
2001 Road Cased Version 2 (live)
2001 Extended Versions (live)
2003 Decades Live
2003 Family Joules
2006 Live II
CLICK ON THESE LINKS TO SEE MORE FOGHAT PHOTOS & ART:
FINE ART AMERICA FOGHAT IMAGES
and
CLICK HERE TO PURCHASE FOGHAT MUSIC:
FOGHAT MUSIC CD'S