BLUE OYSTER CULT- "CULT-DE-SAC"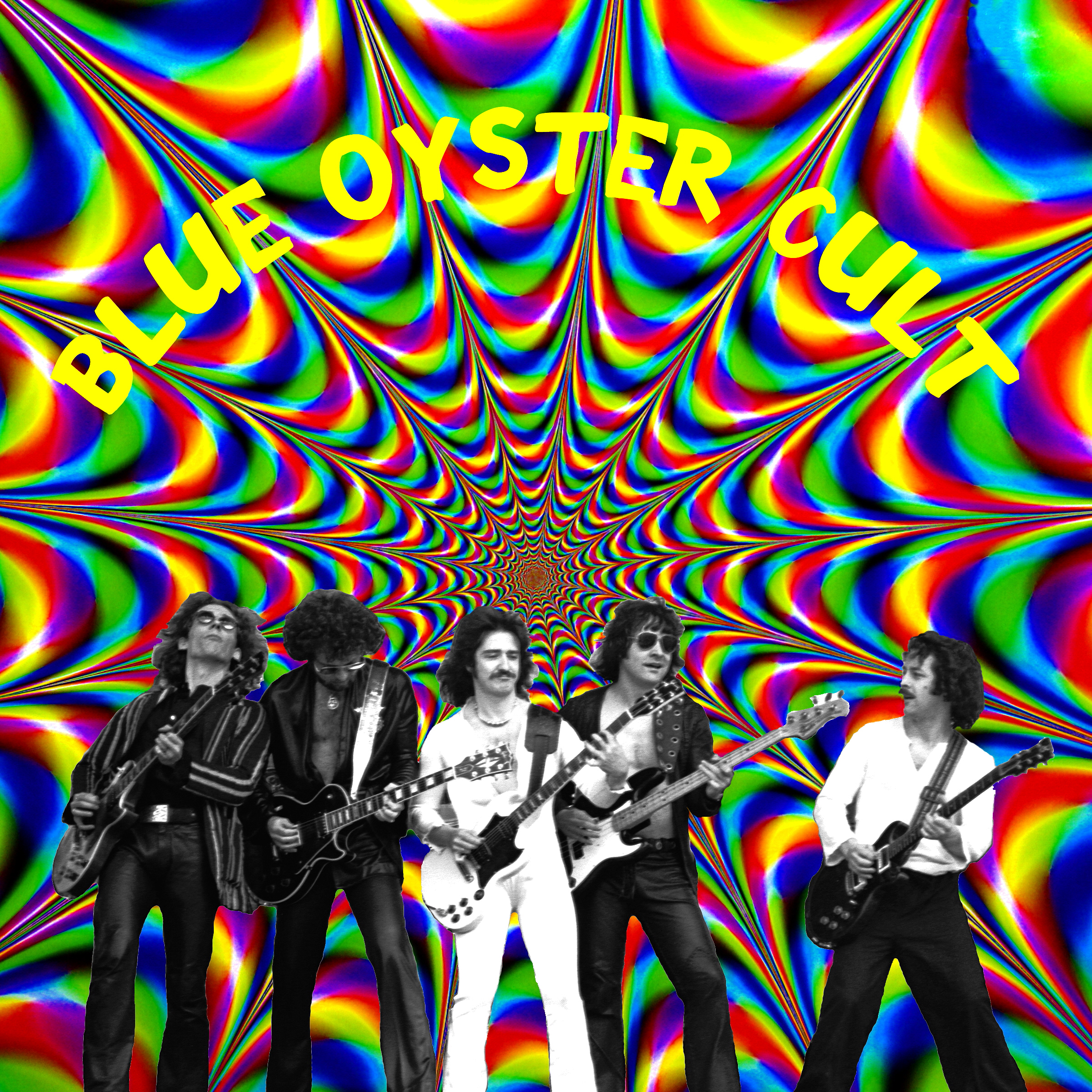 Blue Oyster Cult Photo/Art by Ben Upham.
CLICK THE LINKS BELOW TO SEE MORE BLUE OYSTER CULT PHOTOS & ARTWORK:
OAKLAND 6-6-76
and
B.O.C. ARTWORK by BEN UPHAM III
BLUE OYSTER CULT
"CULT-DE-SAC"
By David Fricke
Circus Magazine
October 10, 1978
It's as plain as the mirrored shades Eric Bloom wears on his face every night Blue Oyster Cult takes the stage. The reason the Cult, for whom Bloom is the Mephistophelian frontman and singer, is releasing its second live album in three years is because they simply haven't the time to write any new songs.
"We've been on the road straight since last October and it will be a full year by the time we get back from our tour of Japan," explains Bloom during one of his few free moments on the Cult's current American offensive. As he takes a breather in a Los Angeles hotel just prior to the evening's work, Bloom dogmatically insists "we'll spend as much time as we have to on the road. It's the only way we can pay ourselves."
If this new live album is any indication, Blue Oyster Cult won't have to sweat out the bills this winter when they set up shop to record a studio encore to last year's "Spectres". "Some Enchanted Evening" (Columbia), as the single record set is called, has everything going for it-Donald (Buck Dharma) Roeser's dentist's-drill guitar, auxiliary wizardry from Allen Lanier on guitar and keys, the big-beat brothers Joe and Al Bouchard on bass and drums, and the sinister vocal sneer of Bloom (who converses off-stage with considerably less venom than he sings). Add to that a handful of expanded epics from "Agents of Fortune" and "Spectres", including "Don't Fear The Reaper," and two ingenious '60s covers in "We Gotta Get Out of This Place" and the MC5's rabble-rousing "Kick Out The Jams."
A bearded New York City native who specializes in the lean-and-hungry look, Bloom is genuinely enthusiastic about the record. "I'm not honking my own horn, but it is a totally amazing album."
But he has something more immediate on his mind. Some of the mindbending effects in the Cult's $300,000 laser light show are about to be scuttled by the management of the Forum in L.A. where the band is playing that night to an SRO house.
According to Bloom, the band's state-of-the-art system-now up to four individual lasers with a programming computer in the works-was the subject last year of an exhaustive Federal Food and Drug Administration study of possible eye damage to audience and band members alike. There had been previous state and city resistance to the Cult show, including one Texas incident where state officials stationed a trooper on the equipment truck to make sure roadies didn't unload so much as a light bulb. But the group complied with the agency's findings and the show now carries the FDA seal of approval.
Tonight, however, they are up against a decision by Claire Rothman, booking agent for the Forum, that no refracted laser light from the Cult's giant mirrored ball can hit the audiences, thereby limiting the laser show effects (completely designed by the band itself) to light designs on the ceiling. Bloom is definitely not pleased. "They are the only hall in the country making us do this, even though the FDA has completely approved our system."
Rothman-who recently gave a paper on lasers and their use in rock shows to a national meeting of arena managers-calmly sticks by her decision. "Unfortunately," she adds, "Blue Oyster Cult have been hung with this bad publicity which makes it sound like they have a highly dangerous show and Uncle Sam made them tow the line."
But a Blue Oyster Cult show without lasers is still a Blue Oyster Cult show and always has been. Even in their late '60s days as Soft White Underbelly and Stalk Forrest Group, the band attracted an avid following on their Long Island, New York home base on the strength of their muscular hard-rock attack and cover versions of such seminal punk anthems as the Amboy Dukes' "Journey To The Center Of Your Mind."
Eric Bloom first joined the band as road manager after a post-collegiate spell demonstrating instruments in a Manhattan music store. "I had a truck and a p.a. and they needed both." He became second guitarist and singer after the group canned original vocalist Les Bronstein. At the time, Bloom adds, there were no gigs-"just rehearsals and scrambling for gigs."
Now the band is scrambling for a hit single to follow 1976's "Don't Fear The Reaper." Spectres yielded no such record, but Bloom insists it was a better album than Agents of Fortune and points to its gold record sales as conclusive proof.
"Who's to say why a hit is a hit? In my opinion, it was a couple of untapped songs on Spectres, like 'I Love The Night' which is similar to 'The Reaper' in tone. But then nobody asked me for my opinion."
If the live album offers a potential chart-maker of its own, it certainly won't be the Cult's re-make of "Be My Baby." They've been so starved for new original stage and record material as a result of the long touring spells that Bloom says they even considered including their version of the moldy Ronettes' oldie on Some Enchanted Evening. For reasons of space and time, the band decided against it only a week before the album's completion.
"We recorded it on a four-channel TEAC at SIR studios in New York during a rehearsal for the Spectres album. We've played the song live maybe twice, but now we have it on a tape with 'She's As Beautiful As A Foot' that we play over the p.a. as the audience leaves the hall after the show."
And the audience's reaction? Bloom smiles mischievously.
"You'd be surprised how many of them think it's really the Ronettes.
BLUE OYSTER CULT DISCOGRAPHY:
1972 Blue Öyster Cult
1973 Tyranny and Mutation
1974 Secret Treaties
1975 On Your Feet or On Your Knees
1976 Agents of Fortune
1977 Spectres
1978 Some Enchanted Evening
1979 Mirrors
1980 Cultösaurus Erectus
1981 Fire of Unknown Origin
1982 Extraterrestrial Live
1983 The Revölution by Night
1986 Club Ninja
1988 Imaginos
1994 Cult Classic
1994 Live 1976
1998 Heaven Forbid
2001 Curse of the Hidden Mirror
2001 St. Cecilia: The Elektra Recordings
2002 A Long Day's Night
CLICK THE LINKS BELOW TO SEE MORE BLUE OYSTER CULT PHOTOS & ARTWORK:
OAKLAND 6-6-76
and
B.O.C. ARTWORK by BEN UPHAM III