Be Bop Deluxe- "Take Extremists' Route"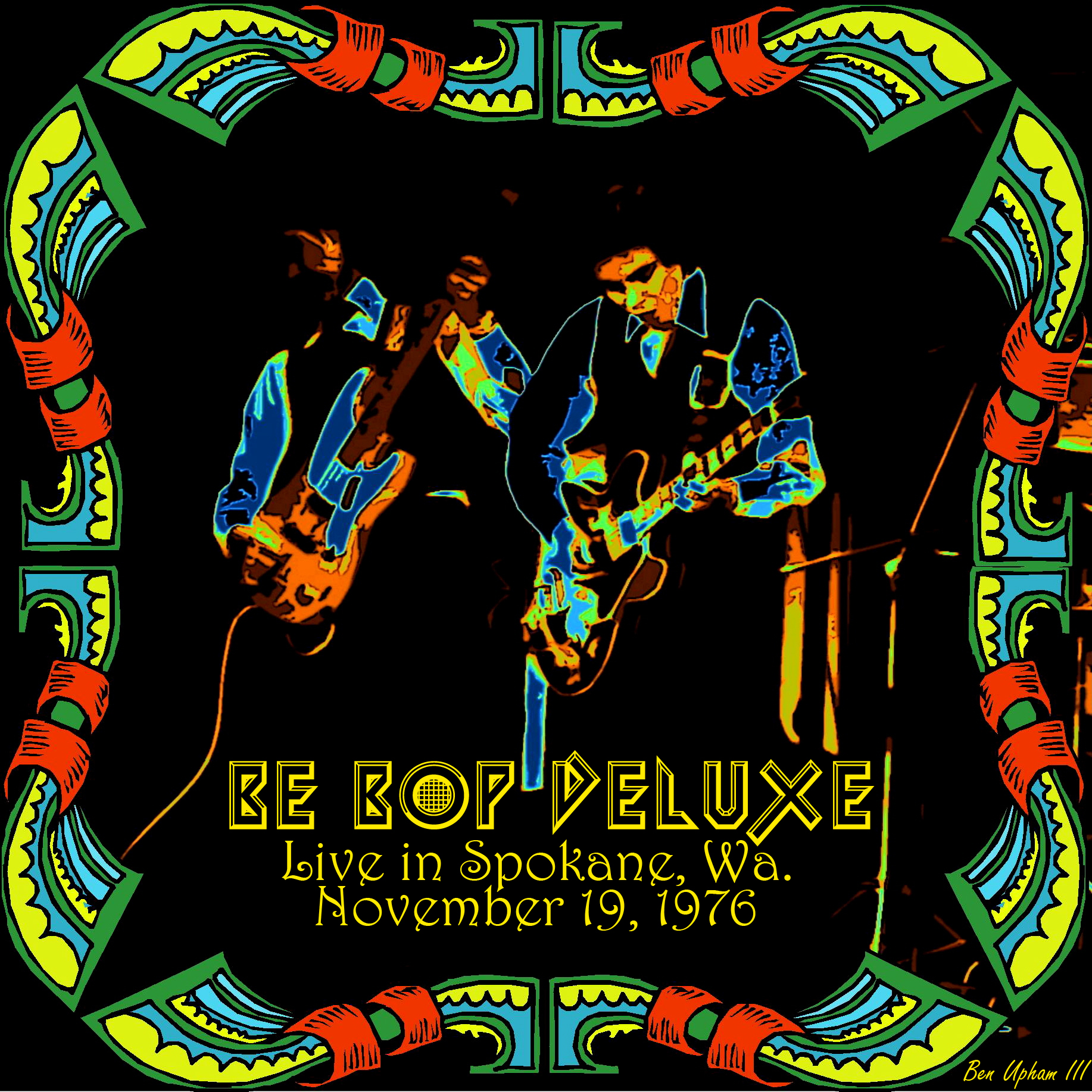 Be Bop Deluxe Photo/Art by Ben Upham
CLICK ON THE LINK BELOW TO SEE MORE BE BOP DELUXE PHOTOS AND ARTWORK:
Spokane 11-19-76
and
BeBop Deluxe Artwork by Ben Upham III
Be Bop Deluxe-
"Take Extremists' Route"
by Andy Edelstein
Circus Magazine
April 27, 1978
Is there a "Superenigmatix" in your future?
The Superenigmatix, according to Be Bop Deluxe's leader and guitarist Bill Nelson, is the "lethal appliance for the household that has everything." It's a machine that watches you and makes the superspy telescreen seem only as threatening as a transistor radio.
For the time being, though, you can relax because the superenigmatix doesn't yet exist. It's only the product of Nelson's fertile imagination. A science fiction buff, he writes of the superenigmatix and other futuristic delights on Drastic Plastic (Capitol), the English quartet's first studio album in more than eighteen months.
"Personally I'm not sure I want to see the world get full of machines like the superenigmatix," he muses, speaking from the EMI Records office in London, "But I am intrigued by anything that stretches or upsets people's lifestyles."
If that's so, then the first word of the new album's title is prophetic; Drastic Plastic hurtles Be Bop Deluxe into the 80's, leaving their previous efforts to pasture as relics of a dying decade.
The history of Be Bop Deluxe and Bill Nelson go hand in hand. While an art college student in London, he joined the Teenagers-"I was the only teen in the group"-who covered all the fashionable blues rock roots that took the British by storm in the late sixties. Though influenced by Clapton, Hendrix, Chet Atkins and the "standard" run of guitar greats, Nelson developed a unique blend of technical proficiency and "dry sound" along with a very scholarly approach to life in general, and science-fiction in particular. He also became one of those artists who play and create best when totally captured by their own dedication. In his own words, he became an "axe victim." And, drilled by their own seriousness and artistic purpose, Be Bop Deluxe have become something of a special case, trapped by their own originality: they play like no one else (sort of progressive, hardcore dream music-Sunburst Finish, Astral Navigations), dress like no one else (they toured fully-suited two years ago before rock fashions took on Ivy League traditional wholesale) and generally occupy a separate realm from the regular rock circuits. That the group has suffered from lack of recognition has a lot to do with their "wayward" habits. Drastic Plastic goes a long way to recouping some of the distance separating them from stardom.
"What we are doing now is trying to say more by saying less," explains Nelson, as if he were the Jerry Brown of rock & roll. "Because we're all proficient musicians, there can be a tendency to overplay rather than to allow the song itself to come through. What we've purposely done this time is to hold back the musical virtuosity, if you like, but to push forward the atmosphere each song is supposed to convey."
To get that atmosphere, says Nelson, Be Bop uses an array of the latest electronic gadgets to produce music that's "a kind of marriage between German electronic music and the type of rock & roll that David Bowie and Brian Eno have been doing.
Nelson, the band's lead singer, guitarist, and chief songwriter, dominates Drastic Plastic as he did on the group's previous releases. The native of Yorkshire, England, and devotee of French avante-garde film figure Jean Cocteau, started the band in 1972 as a vehicle for his own artistic ambitions. Since Be Bop's present lineup was established in 1975, Nelson has guided his cohorts (drummer Simon Fox, keyboardist Andy Clark and bassist Charles Tumahai) through four albums, each of which has increased the quartet's popularity.
"The whole album intentionally sets one type of music against another; I call it time warp music," he continues. "For instance there's one song called 'Dangerous Stranger' which has an Eddie Cochran 1950's feel to it, but because of the lyrical content and imagery, it sounds like something out of the 80's."
The results of what Nelson calls time warp music are mixed. There is some success on "Surreal State,'" which blends kung-fu soundtrack music with symphonic orchestra details, and on "Love in Flames," a straight-forward rocker that sets a hyper New Wave mood against Nelson's Chuck Berry guitar licks and Clark's simulated 1960's organ (devised by programming a synthesizer). But mixing Frank Zappa-ed theatrics with floor wax TV commercial music however, dooms "Superenigmatix" from the start.
Nelson isn't just spouting some psychological mumbo-jumbo. After hearing tunes like "New Mystery" with its march-like rhythms and trance-like repetition of the title and "Electric Language," which features a hypnotic drum tape loop over a sparse few lines of lyrical content, the listener may find the songs playing inside his head at unexpected times.
"We could be the leaders of tomorrow's music," he says, "if I allowed some of my more bizarre ideas to come out."
Nelson says that one of these ideas is a new form of "psychological music." "With this music, you don't exactly understand what it was that affected you about the music you're hearing because it hits you on a psychological level rather than a literal level. The words are used for the reactions they conjure up more so than for what they literally mean."
Drastic Plastic represents a slight attempt toward this end, Nelson admits, "but without getting too far away from what people expected."
"The material on Drastic Plastic was written last March [1977], so as new as it sounds, it was old by the time of release," Nelson says. "I'm anxious to get started on the next album which will be as different from Drastic Plastic as Drastic Plastic is from Modern Music."
BE-BOP DELUXE DISCOGRAPHY:
1974- Axe Victim
1975- Futurama
1976- Sunburst Finish
1976- Modern Music
1977- Live in the Air Age
1978- Drastic Plastic
1978- The Best of and the Rest of
1981- Singles A's and B's
1987- Raiding the Divine Archive
1994- Radioland- BBC Radio One Live in Concert
1997- Air Age Anthology
1998- Tramcar to Tomorrow
2002- Tremulous Antennae
2002- Postcards from the Future
2011- Futurist Manifesto
2013- Be Bop Deluxe at the BBC 1974 – 1978
2014- Original Album Series
CLICK ON THE LINK BELOW TO SEE MORE BE BOP DELUXE PHOTOS AND ARTWORK:
Spokane 11-19-76
and
BeBop Deluxe Artwork by Ben Upham III