BAD COMPANY- "BURNIN' THE SKY" (A SEPTEMBER 1977 RECORD REVIEW)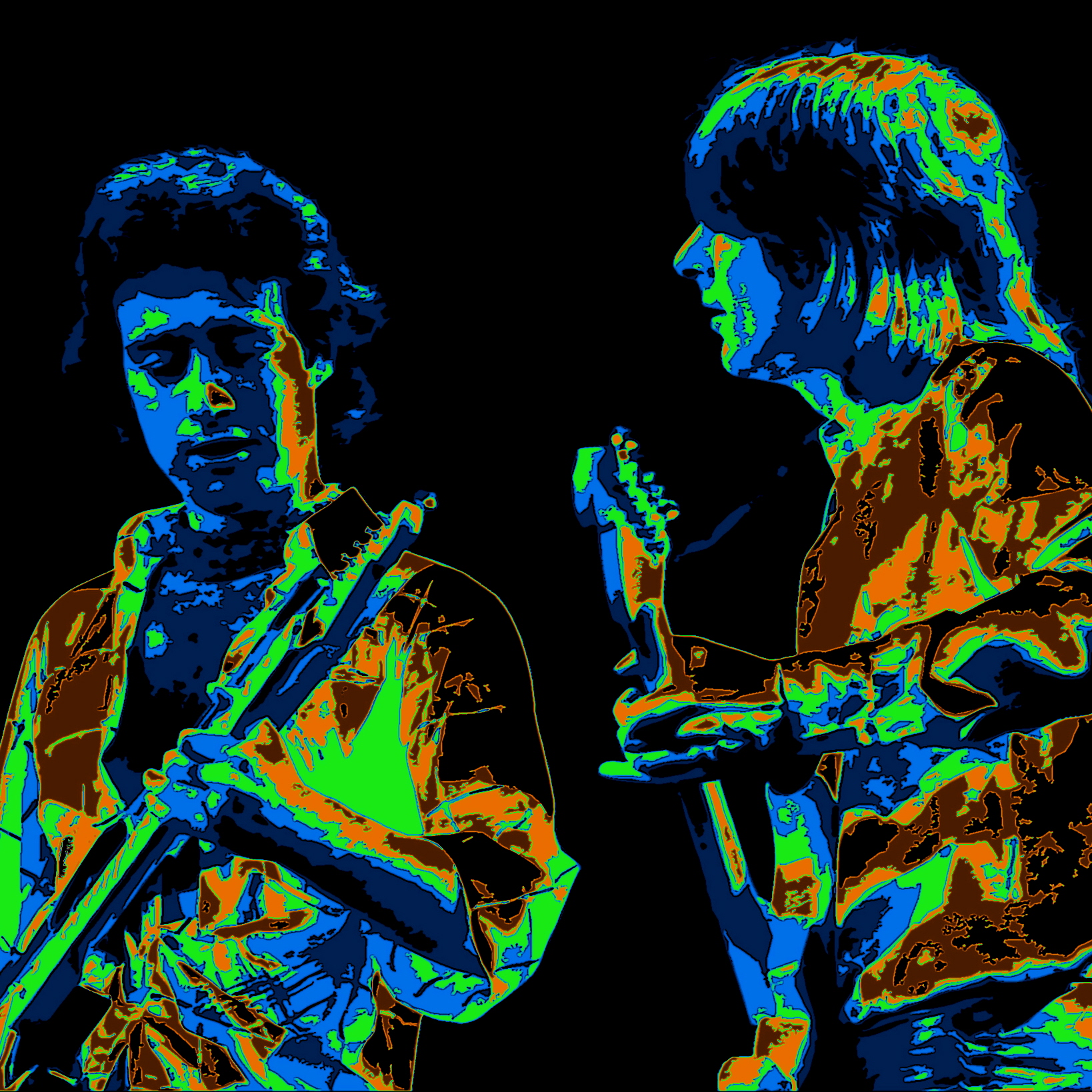 PAUL RODGERS AND MICK RALPHS OF BAD COMPANY. PHOTO/ART BY BEN UPHAM.
CLICK ON THE FOLLOWING LINK TO SEE MORE BAD COMPANY PHOTOS:
BAD COMPANY IN SPOKANE MAY 1977
and
MAGICAL MOMENT BAD COMPANY PHOTOS BY BEN UPHAM
and
PURCHASE BAD COMPANY CD'S AND DVD'S
BAD COMPANY-
"BURNIN' THE SKY"
by Andy Edelstein
September 1977
Bad Company may not be immediately recognizable on "Burnin' Sky", their fourth album and one that marks a turning point for the band. In spots, the heavy badasses have transformed themselves into mellow fellows, a transition they accomplish, quite well.
Three tunes in particular stand out. Passing Time, Morning Sun and Like Water are pleasant, almost folksy efforts that are about as far removed
from Can't Get Enough of Your Love as you can possibly get. So that their impact is more easily digested, these tunes are dispersed on both sides of Burnin' Sky, between formula BadCo songs such as Leaving You and Heartbeat.
Passing Time is the one cut I play the most, basically because I am bowled over by the idea that it is being performed by Bad Company. Paul Rodgers' lyrics about-getting older and going nowhere and his sprightly piano playing in counterpoint to Mick Ralphs' phased guitar make the band seem positively benign. It is a model of economy, a skimpy two minutes and thirty seconds in length, during which time all that has to be said and played is said and played.
Rodgers' Morning Sun is a mood piece, ushered in by chimes and chirping birds, suggesting six a.m. in some sleepy English village. The mood is heightened by Ralphs' trancy playing, which at times sounds like a sitar, and by the swooping flute of former King Crimson member Mel Collins. The lyrics come as close to poetry as Rodgers will get (i.e.: She moves across the room with easy grace/Mona Lisa smile upon her face/I who am completely mesmerized/By the sun-light in her eyes).
Rodgers "becomes downright introspective on Like Water, a tune he cowrote with his Japanese wife. If there is, indeed an old and new Bad Company sound, then' Like Water', with Rodgers' passionate vocals in combination with the usual Badco urgency, strikes a well-executed synthesis. Ralphs' slide guitar which dips in and out of the verses, enhances the tune.
Any sensitivity, Rodgers displayed elsewhere on the album is negated by Leaving You, his macho tale about ditching, his woman after she has bestowed mounds of favors on him. I get the feeling, however, that Leaving You is a product of the old Rodgers, he of the scraggly hair and sloppy dress, not the new Rodgers, he of the matinee-idol haircut and conservative outfit shown on the album jacket.
In fact, it is the mainstream Badco tunes which weigh down Burnin' Sky. Rodgers' Heartbeat and Ralphs' Too Bad have riffs that just hang in mid-air, seeking unsuccessfully to latch onto something. The exception is Ralphs' convincing Man Needs Woman, a r&b-styled raver powered by Collins' sax work.
The title song, introduced by thunderclaps, ends as a dud. It has a semi-compelling hook riff, but its muddled lyrics and excessive length sabotage it.
Everything I Need and Master of Ceremony are collections of quirky styles and pseudo-political mumbo-jumbo that indicate what a band does in the recording studio in the middle of the night, but they have no place on this album ..
Nonetheless, Burnin' Sky shows that after four albums, Bad Company is both capable of growing and of not going down for a tencount as a heavy metal band either.
BAD COMPANY DISCOGRAPHY:
1974 Bad Company
1975 Straight Shooter
1976 Run with the Pack
1977 Burnin' Sky
1979 Desolation Angels
1982 Rough Diamonds
1986 Fame and Fortune
1988 Dangerous Age
1990 Holy Water
1992 Here Comes Trouble
1995 Company of Strangers
1996 Stories Told & Untold
2002 Merchants of Cool
2006 Live in Albuquerque 1976
CLICK ON THE FOLLOWING LINK TO SEE MORE BAD COMPANY PHOTOS:
BAD COMPANY IN SPOKANE MAY 1977
and
MAGICAL MOMENT BAD COMPANY PHOTOS BY BEN UPHAM
and
PURCHASE BAD COMPANY CD'S AND DVD'S