Aerosmith- "Draw the Line" (Album Review from March 1978)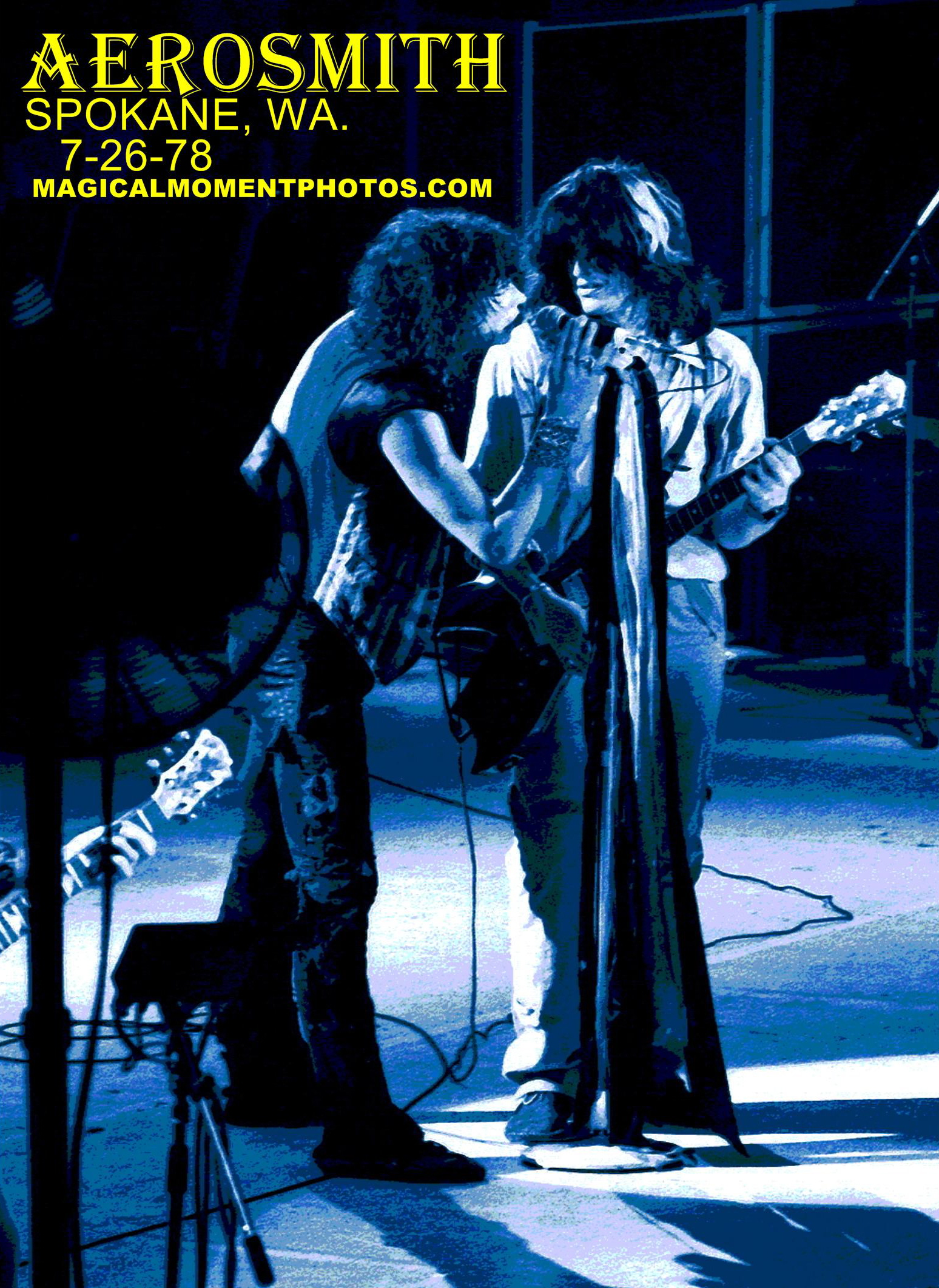 Aerosmith Live in Concert in Spokane, Wa. on 7-28-78. Photo by Ben Upham.
CLICK THE LINKS BELOW TO SEE MORE AEROSMITH PHOTOS AND ARTWORK:
Spokane 7-26-78
and
Aerosmith Artwork by Ben Upham III
and
CLICK HERE TO PURCHASE THE "DRAW THE LINE" CD BY AEROSMITH
Aerosmith- "Draw the Line" Review
March 1978 (Author Unknown)
Aerosmith have arrived for good, mates. Just check out the packaging of their new album: the front and back covers not only lack the emerging group-logo which graced their last two LP's, but also dispense with the title of the set.
Instead, the denizens who haunt the record racks will be greeted with a black and white caricature of the group members (by Al Hirschfield, no less), and a no frills listing of the song titles. Only those potential buyers already acquainted with Steven Tyler's overbite (or those hip enough to turn the LP spineside-up) will know that they're holding Aerosmith's "Draw the Line" in their cash-crossed palms; Aerosmith are playing in Led Zeppelin's if you have to tell 'em who you are, you ain't made it baby! league now.
Aerosmith is thus solidly anchored to ride out the shifting currents of Rock taste in the late 70's, both on the album sales charts, and in concert arenas that have always welcomed them. Aerosmith emerged at just the right time (1973) to make a gigantic name for themselves, despite Steven Tyler's flirtations with various Jagger-derivative posturings over the years, Aerosmith's real appeal has always been the bare fact that they play sophisticated hard rock better than just about anybody else in the business. That ability was a sufficient, almost excessive, attribute for contenders entering the Rock doldrums of the early 70's, but with hard rock long since restored to it's legitimacy (if not primacy), the race to exploit quirks which individualize bands is once again overturning everybody's standards of ascendancy.
In a sense, Aerosmith are much more like the Rolling Stones than either their fans or their detractors would have them. The Stones have stayed in power and prominence for 15 years by sticking right to their guidelines Andrew Loog Oldham laid down for them in 1963, by taking fewer chances than their competitors, and they've weathered every change of style or taste, no matter how radical, in the process. So what if the old guard didn't like "Black and Blue", the record buyers, in ever younger waves validated it. Aerosmith have grown relatively little in musical vision since their first album, but everybody who was along for that exhilarating set has stayed loyal to the band and their consistent sound. I should know, I've addicted to that supple Joe Perry-Brad Whitford guitar chug ever since I first heard it in 1973. Aerosmith have steadily deepened their fans hook-dependency, by providing the visceral hooks that compliment the cerebral variety dispensed by their label-mate hookmeisters in Blue Oyster Cult.
"Draw the Line" advances Aerosmith a half-notch (at most) on up their great chain of being, but the accustomed pleasures of their sound are, well, quite comfortably reiterated. "Draw the Line" frequently invokes Aerosmith's (or probably Tyler's) songwriting formula, that of seizing some cliche or figure of speech, objectifying it with a hard rock background and a correspondingly vague plot, at last making it stand on it's own as a kind of born-again bromide. Need we recall "Back in the Saddle", "Sick as a Dog", and "Get the Lead Out", all on "Rocks" alone? "Draw the Line" adds to our collection of Rock & Roll idioms- "The Hand that Feeds", "Get it Up", "Sight for Sore Eyes", and "Critical Mass" (a rather neat pun by the way) and it's own title cut. The kineticism in each of these cuts is as patently Aerosmith as the concept itself; Draw the Line, with it's echoed, pulsating fuzz-hook is a particularly tough opener.
"Get it Up's" lyrics worry over our old nemesis of secondary impotence, but the rock hard music doesn't suffer either variety of that dysfunction. Joe Perry's "Bright Light Fright" laments the numbing road life for rock bands for one more go-round, but his version is somehow more compelling than most other guitar pilgrims, presumably because he moves in higher circles of superstardom.
For now (and most likely for a long time to come), Aerosmith are solidly with us, and it just may be that there is something to be said for surviving the 70's together.
AEROSMITH DISCOGRAPHY:
1973 Aerosmith
1974 Get Your Wings
1975 Toys in the Attic
1976 Rocks
1977 Draw the Line
1978 Live Bootleg
1979 Night in the Ruts
1982 Rock in a Hard Place
1985 Done with Mirrors
1986 Classics Live
1987 Classics Live Vol. 2
1987 Permanent Vacation
1989 Pump
1993 Get a Grip
1997 Nine Lives
1998 A Little South of Sanity
2001 Just Push Play
2004 Honkin' on Bobo
2005 Rockin' the Joint
2012 Music From Another Dimension
CLICK THE LINKS BELOW TO SEE MORE AEROSMITH PHOTOS AND ARTWORK:
Spokane 7-26-78
and
Aerosmith Artwork by Ben Upham III
and
CLICK HERE TO PURCHASE THE "DRAW THE LINE" CD BY AEROSMITH